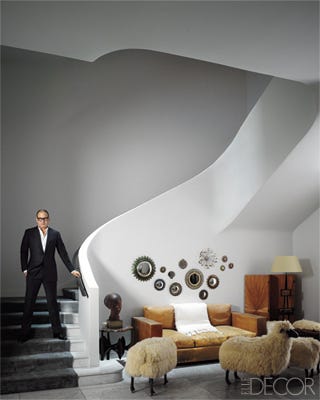 The foyer, with its dramatic staircase is handcrafted in plaster. "It's emblematic of the theme of our home—artisanal craftsmanship combined with warm modernism," says the fashion designer, who transformed Coach into a global brand and now runs his own flourishing label, Reed Krakoff Collection. He and his wife, Delphine, an interior designer, furnished their entry with a collection of Line Vautrin mirrors, a Marc Newson Lockheed Lounge chair, and a flock of François-Xavier Lalanne's surreal sheep sculptures. The results are so chic that the Krakoffs use the space as far more than a passageway. "During Fashion Week," he says, "we hosted a seated dinner for 30 here."
Ingrid Abramovitch
Executive Editor, Siweb
Ingrid Abramovitch, the Executive Editor at Siweb, writes about design, architecture, renovation, and lifestyle, and is the author of several books on design including Restoring a House in the City.