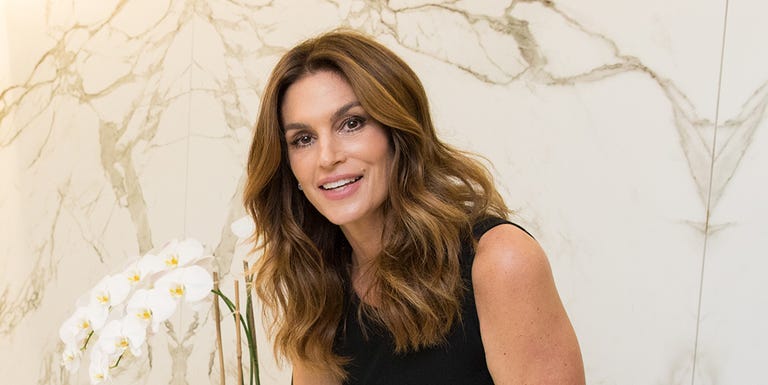 As if we needed the reminder, Cindy Crawford let us know during Fashion Week that she's still one of the best at what she does: staying at the forefront of style. Siweb caught up with the model at countertop expert 's "Talking Top Design," event to find out the supermodel's home must-haves.
Here are the ways Crawford selects, styles and lives her stylish life, even off-duty.
She chooses flowers that amplify ambiance.
While Crawford's current green obsessions are succulents and orchids, her go-to flowers change depending on the house and the season.
"When we go to the lake house I always have sunflowers because they are happy and they are summery, but that wouldn't really work in Malibu probably," she says.
One thing you won't' find: anything too fragrant. Her husband, Rande, is sensitive to smell, and they don't like anything clashing with their incense.
She respects a house's historic design.
While she doesn't align with one decor style in particular, Crawford is all about going the extra mile when she finds something she likes.
"I don't like it when people buy a midcentury house and then try to change it, or buy a tudor and try to make it modern," she says. "To me the house then loses its soul. I like it to have that integrity of whatever the original idea was and respect that."
The model and business savant reminisces on a 1927 Spanish hacienda-style home she used to have — shot in the October 2002 edition of Siweb — and how she styled her home around its historic bones.
Finding a balance between durability and luxury is key in her home.
Yes, Crawford is a supermodel living a life of luxury, but she is also a reasonable mom of two who knows accidents happen. She likes to keep her home in style but, durable enough to last. To combat this, she uses a lot of outdoor fabrics indoors to defend against kids, dogs and all of life's potentially messy joys.
She thinks about all the senses when she decorates.
"I would want a blind person to love my house as much as a person who could see," Crawford says.
She not only focuses on the aesthetic of her home, but the overall sensory experience of how the fabrics feel, what music is playing and what candle is burning.
Her kitchen is for cooking, not for show.
The Kitchen is the heart of the home for Crawford, and she wants it to not only look good, but to be functional, too.
"It's something that looks good, and wears well and is easy to clean," Crawford says. "I don't want something that's a lot of work or that you can't put a lemon on."
As for styles, her kitchen preferences change with each house, but she is loving right now. She has partnered with the brand for their "Tops on Top" campaign, and the two powerhouses are making a sexy statement about countertops.
She makes her home fit her lifestyle — not the other way around.
One of the big tests Crawford and her husband try before they buy a home is imagining how they will live in the space.
"Sometimes you get sucked up into the aesthetic and then you realize, wait, there is nowhere to sit or where are we watching the football game together? Where am I reading my book?" she says. "I try to really think about where do I want to spend time in this house, not just how it looks."
This mentality even carries into her design choices. Crawford loves to walk around barefoot, so stone floors are her go-to for a soothing and easy-to-clean texture.