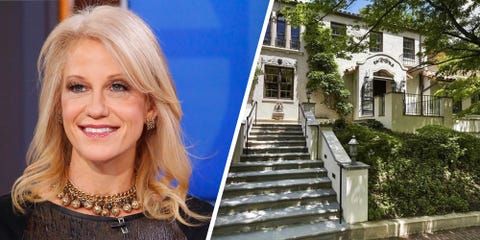 Kellyanne Conway may be keeping a lower profile on TV these days, but she's staying close to the White House.
The counselor to the president is the in Massachusetts Avenue Heights, Washingtonian reports. The eight-bedroom, 11.5-bathroom house, which has a pool on its property, went into contract on April 2. Scroll down for a look inside.
The nearly 15,000-square-foot house is set on a half-acre of land.
Conway and her husband, George, are , according to a financial disclosure reported by Bloomberg.
It's on Benton Place NW, a secluded, tree-lined street.
Massachusetts Avenue Heights is just across Rock Creek from , where the , and Ivanka Trump and Jared Kushner have all moved within the past few months.
The house was previously owned by the former acting Prime Minister of Pakistan, Mooen A. Qureshi.
Qureshi was also a , Curbed reports.
The house includes eight bedrooms.
The master suite has two master baths and two walk-in closets.
It's , according to realtor.com.
There's a wine cellar and a billiards room.
Heatstreet reports the house also .
At least one of Conway's potential new neighbors is excited about her arrival.
Developer Jim Abdo told Washington, "We would welcome anyone to our neighborhood. It's a very special place."