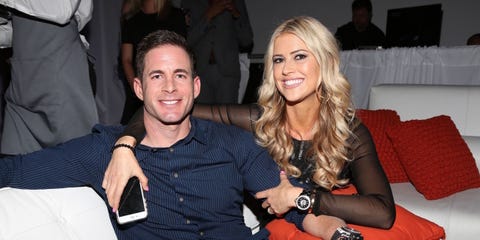 Every person who binge watches HGTV is shocked by the latest news surrounding the network: "" stars and oh-so-adorable couple Tarek and Christina El Moussa are a couple no longer.
In May, after seven years of marriage, Tarek stormed out of his California home after a fight with Christina, gun in hand (a police report was filed for a "call of a possibly suicidal male with a gun," but Tarek said the gun was just for snakes and coyotes), reports .
According to the , 11 deputies were called in response to the incident, and five guns (including a Stag Arms AR-15 semiautomatic rifle) were seized from the couple's home. HGTV stated that "Flip or Flop" will continue to air, and the former couple said in a statement, "we have decided to separate while we reevaluate the future of our marriage" and that they will "continue to work through this process civilly and cooperatively," continuing their professional life together.
If the marital tension (or, er, collection of firearms) comes as a surprise to you, here are ten other things you may not know about the El Moussas.
1
They Were Hit Hard By The 2008 Recession
As with many other Americans, for the El Moussas. Their realty business was hit hard — so much that they had to swap a $6,000 per month mortgage for a $700 per month rental. The duo landed their HGTV gig a few years later, and their first episode aired on April 16, 2013.
2
Tarek Hit His Stride In The Housing Boom Young
Tarek , earning his real estate license when he was just 21 years old. It was a profitable time for him in Orange County, where he quickly started selling multi-million dollar mansions (until the housing bubble burst). When he needed to find another way to make his business profitable, he turned to renovating and flipping properties.
3
Christina Was A Judge On 'Brother vs. Brother'
"Flip or Flop" hasn't been Christina's only reality TV gig. In 2013, she appeared as a judge on "," a reality TV show starring Drew Scott and Jonathan Scott of the "Property Brothers."
4
They Met At A Real Estate Office
Tarek and Christina met when at a real estate office. "We're able to work together because we're best friends," Tarek once said in a . "We love what we do. We love each other." (Cue: 😢)
5
A Viewer Discovered Tarek Had Cancer
When registered nurse of "Flip Or Flop" in 2013, she emailed the HGTV show's production company to point out that Tarek seemed to have a large nodule on his thyroid. She urged him to check it out — and when he did, it turned out to be Stage-2 thyroid cancer. Tarek had his within a week of his biopsy and underwent radiation treatment, and has been in remission ever since.
6
Christina Underwent In-Vitro To Have Her Second Child
Iodine radiation, which Tarek needed to treat his thyroid cancer, can cause infertility for six months to a year. Because of this, the couple (IVF). After two failed IFV attempts — including one that led to a miscarriage at eight weeks — she tried one last time, and finally became pregnant with her youngest son, Brayden, who was born last year.
7
They Fund Home Purchases Through Past Investments
The couple earns about $10,000 for each episode, but they buy new houses from their past investments, reports . They bought their first investment house in Santa Ana for $115,000, and made $34,000 in profits.
8
They Can Renovate Your House, Too
"Flip or Flop" isn't the only job the couple has together. They also own a real estate company called , which offers "experts in renovations big or small." Beyond renovations, the company also offers expertise in construction, design and buying/selling houses.
9
They Own An Education Company Called Success Path
As though they're not busy enough, Tarek and Christina also own a real estate education company called . The company states that its "principle goal is to provide students with the necessary foundation to build the future of their dreams" through camps, summits, workshops and a personal business success course meant to teach interpersonal skills, self-discipline and how to set priorities in a real estate career.
10
Tarek Has Said He Never Expected To Be On TV
Though Tarek had early beginnings in real estate, he never anticipated being on a TV show. "Getting a TV show is pretty much the last thing I ever imagined us doing," he said in an . "We had no idea what to expect... One day you're doing a TV show with no experience." Also, if the video is any indication, he does not like getting his makeup done for the show.