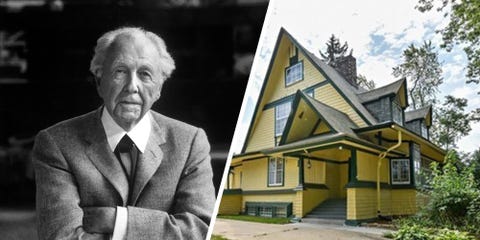 Coldwell Banker
Getty Images
Noted architect Frank Lloyd Wright built this five-bedroom, three-bathroom Chicago home in 1900, and after a price chop earlier this week it . Scroll down for a look inside.
The house is in the West Pullman neighborhood of Chicago.
Wright designed it in 1900 for Stephen Foster, a real estate attorney.
It was designated a Chicago Landmark.
Unlike Wright's famous "Prairie-style" homes, this one is Japanese-influenced.
The architect and credited Japanese art for some of his inspiration.
"The dramatic, outward flare of the ridges on the roof and dormers evokes Japanese architecture and lends variety and dynamism to this otherwise conservative design​."
Reads a description from the Frank Lloyd Wright Trust.
The home went on the market for $239,900 in April and has had three subsequent price cuts.
"It's an oasis from the hustle and bustle of the city."
According to listing agent Armond Boulware.
Nobody would call the kitchen's color palette muted.
For more Wright real estate, check out an untouched 1960 house he designed that's also on the market.