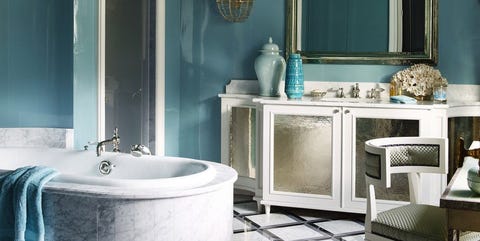 Whether you're looking to create a spa-like oasis, or enliven your space with a touch of drama, bathrooms are easy-to-transform spaces that are full of design potential. Regardless of your style, choosing the right shade for your bathroom is key. To simplify the process and inspire your next redo, we spoke to the pros about the best shades for virtually any bathroom.

Look below for 23 gorgeous bathroom colors, chosen by some of our favorite interior designers.

1
Stone Blue by Farrow & Ball
This watery blue tone is perfect for a bathroom, a space that we typically want to feel bright and clean. It may be a bit bold for a Master Bath, or for all the walls of a bathroom, but it's just the right intensity for cabinetry or for a smaller powder room.
-Christine Markatos,
2
Decorator's White by Benjamin Moore
"My go to paint color is always Decorators White by Benjamin Moore. It's the perfect warm white without the yellow undertones. I love pairing that with High Gloss Super White for doors and trims in the bathroom to add a bit of contrast and pop - creating the perfect balance of neutral warmth with a touch of modern flair."
-Marina Hanisch,
3
Pale Oak by Benjamin Moore
"I always start with the stone when designing a bathroom, and that begins to inform the color palette. Pale Oak partners well with most marbles, enhancing the vein in the marble, but equally works to soften a dark tile. Be careful, it can go grey or beige depending on the light. Personally I love that about it, but depending on the space, it can be tricky."
-Bradley Odom,
4
Stonington Gray by Benjamin Moore
"I love bathroom stones that have clean whites and light grays in them. I like to pair that with a light gray paint color–like Benjamin Moore Stonington Gray–to pull that color onto the walls. Its a crisp way of keeping things neutral but tying it all together."
-Lauren Behfarin,
5
Softer Tan by Sherwin Williams
Sherwin Williams Softer Tan is a beautiful color, especially in a calcatta marble covered bathroom. This warm neutral picks up on the veins in the marble, creating a gorgeous overall result. They pair well together, and the walls won't overwhelm the marble tile floors or countertops.
- MA Allen,
6
Soft Chamois by Benjamin Moore
"I love clean white bathrooms, especially when they are en suite; it feels both classic and timeless. When it comes to a particular color, I love using Benjamin Moore's Soft Chamois. For powder rooms with no baths and showers I go all out with a great lacquered look or wallpaper for more drama."

-Shelley Johnstone,
7
Ashley Gray by Benjamin Moore
"I've been having a love affair with Benjamin Moore's Ashley Gray. It's got verve and reminds me of a Wendy's Frosty shake, and it offers the versatility of a neutral–but with some attitude!"

-Corey Damen Jenkins,
8
Chantilly Lace by Benjamin Moore
"I personally love clean (white) bathrooms, as it is good for the lighting, while creating a fresh feeling. Chantilly Lace by Benjamin Moore is a beautiful white that I use."
-Liana Reid,

9
Cornforth White by Farrow & Ball
"I love a bathroom that feels clean and calm. Farrow & Ball's Cornforth White is my favorite versatile color that creates the perfect palette for adding texture through stone, tile, and small accessories. It is almost like the chameleon of paint colors taking on endless shades of gray."
- Margaret Naeve,
10
Tranquility by Benjamin Moore
"It's a soft blue green shade, with enough gray to give it some nice depth and keep it from going too pastel. It looks lovely when paired with a black accent tile."
-Karen Vidal,
11
Gray Cloud by Benjamin Moore
"I recently used this Benjamin Moore color to go with a beautiful light gray blue Argent marble. The color kept the wall neutral but nicely went with the marble and complemented the color of blue gray tiles."
-Mia Jung,
12
Hale Navy by Benjamin Moore
"A dark bathroom balanced with white is a great way to go. Hale Navy is one of my all-time favorite colors. It works perfectly with marble or white cabinetry. White is such a crucial color to consider in a bathroom because it always feels fresh and clean. The darker navy tone also works perfectly with the warmer metal trends like brass and copper."
-Hannah Collins,
13
Borrowed Light by Farrow & Ball
"Borrowed Light is the most exquisite and calming color in a bathroom when combined with gray marble finishes. A truly effortless light blue that doesn't try too hard and feels like a breath of fresh air."
-Erin Gates,
14
Hague Blue by Farrow & Ball
"Farrow & Ball is always my go-to as far as paint brands go, but this particular blue has been speaking to me for the last few months now. I'm currently using it in a New York penthouse library built-in, but this rich navy would also work seamlessly in a bathroom, kitchen, or on a front door."
-Shana Wardle,
15
Gray Owl by Benjamin Moore
"I love this gray because it works with both warm and cool color palettes. It's a rich enough color to be used as an accent wall, but is still neutral enough if you wanted to paint more than one wall. This color also pairs really well with your most commonly used bathroom marbles, such as Carrara and Statuary."
-Karen Asprea,
"I tend to like colors that are hard to read, and Sable Calm definitely falls under that category. The color changes depending on the time of day. It's like a mood ring: Soothing and dark at night and refreshing during the day. Watch out navy! Dark green is moving in!"
-Joann Neenan,
17
Passive by Sherwin-Williams
"This pale gray has beautiful light-reflective qualities that accentuate the architecture through subtle shadows without distortion. It's sophisticated and subtle, yet warm. A color I keep returning to for bathrooms without hesitation."
-Jeff Andrews,
18
Cheating Heart by Benjamin Moore
"My favorite bathroom color is a warm dark gray and I find it to be a really good color to get dressed by in the mornings. It's always easier to see how you look against a dark background, with good lighting of course, and this gray is very complementary to every skin tone."
-Tim Campbell,
19
Elephant's Breath by Farrow & Ball
"Farrow and Ball's Elephant's Breath pairs beautifully with stone and adds a timeless and holistic feel to any bath."
-Melissa Lewis,
20
Newton's Indigo by Portola Paints
"For the guest bath? Go crazy. Try Newton's Indigo with brass hardware." - Jamie Davis,
21
Super White by Benjamin Moore
"It's a beautiful, cheery and clean, warm white that doesn't lean yellow or blue or gray. It also isn't blinding. It works well in most lighting, so it's a go-to for me, especially with the by-video clients I help since I can't be there to see the light with my own eyes."
-Mandy Cheng,
22
Ballet White by Benjamin Moore
"Usually I like my bathroom tiles to be the main event and I let the walls relax into a pale shade of one of the colors in the tiles. The Benjamin Moore color #OC-9, Ballet White, is warm and soft and it doesn't steal the attention away from the tile design. It accomplishes a sophisticated and overall finished appearance for the bathroom."
-Hilary Unger,
23
Temptation by Benjamin Moore
"San Francisco is full of bathrooms and split baths with traditional Edwardian detailing: White hex mosaic floors, white subway tile showers and wainscots and thick window and door moldings. A great way to add unexpected contrast and class to these spaces is by painting the walls and ceiling deep charcoal gray."
-Emilie Munroe,