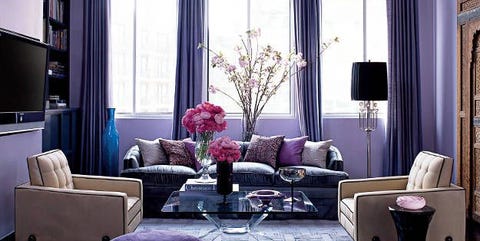 The color purple is associated with royalty, power and ambition. In a home, it has positive effects on the mind and body, creating an uplifting energy, adding calmness to a space, and encouraging creativity and imagination. Best of all: the incredible versatility of the color means that you can tailor the shade to suit your space.

Here, we highlight some of our favorite rooms featuring purple paint, along with pointers from Benjamin Moore Color and Design Expert Andrea Magno on how to pull off each look with a similar paint choice.
In shoe designer Minna Parikka's Helskinki home, her walk-in closet was designed with as much care as her shoes are. Light purple walls match the ottoman and closet doors, with cool undertones to balance the pink carpet.
"A mid-tone purple, Purple Poppy is drenched in rich undertones of blue and violet yet retains its delicate, dainty character."
Make it Your Own:

In a more neutral room, adding a pop of color like this decadent periwinkle can completely brighten the space. For an easy kitchen refresh, a great cabinet paint job will do just the trick. This hydrangea-esq purple stands out as much as it blends in for a subtle yet chic vibe.
"... bold, saturated [color] that brings spaces to life for those looking to illuminate their world with pure, extraordinary color."
Make it Your Own:
For those who are fearful of committing to a fully purple room, incorporating just a touch of color in a smaller space is the perfect solution. Steven Gambrel uses a deep, royal purple in his vestibule design, breaking up the softer palettes of the surrounding rooms.
"An intense, wild purple that envelops a room, exotic purple is powerful and pulse-racing, exuding cool confidence and style."
Make it Your Own:
In this East Hampton home, a delicate lavender is used on the walls, serving as a neutral backdrop for the vintage blue and white porcelain ceramics. A deep purple couch complements the walls without feeling overwhelmingly purple.
"This soothing grayish purple captures the beautiful color of lilacs. A perfect shade for any room, it never fails to deliver a dose of calming relaxation."
Make it Your Own:
If you're looking to create a statement in your home, here's your inspiration. Designed by Steven Gambrel for an eclectic Manhattan family, this library is painted in Pantone's Mysterioso and Rosewood with high gloss for an attention-grabbing, relaxing space.
"A deliciously saturated purple, mystical grape conjures images of an evening on the terrace drinking vintage wine."
Make it Your Own:
This jewel-toned room in covergirl Jessica Stam's apartment combines purples, pinks, and metallics to create an extravagantly chic living space. The heavily purple room is complete with a vintage couch, 1950's armchairs upholstered in cotton, and a complementary custom rug.
"Taking its color cue from the pretty perennial, this deep, grayed purple is as welcome as the early spring crocus budding through the snow."
Make it Your Own:
This Upper West Side apartment is painted in Farrow & Ball's Cinder Rose, which is a warmer alternative to the traditional, cooler lavender color. Designer and owner Kimille Taylor said she wanted to create a space that "feel[s] yummy and soft."
"A dose of black gives depth to this mid-tone purple, making it ideal to accent the fanciful period details that distinguish Victorian architecture."
Make it Your Own:
This bathroom gives us royal vibes with a deep plum paint job and gold detailing. With the great natural sunlight, a darker purple is easily pulled off.
"Mystery and intrigue define dark purple. An intense, blackened shade that feels rich and velvety soft, it creates a beautiful backdrop for antique silver, fine crystal and heirloom furnishings."
Make it Your Own:
Though purple is rarely deemed "earthy," the use of this vibrant shade in fashion designer and her husband Nicholas Alvis Gega's veranda takes on the great outdoors with style.
"Capturing the breathtaking beauty of summer's exquisite hydrangeas, this deep mid-tone purple inspires long beyond the season."
Make it Your Own:
Take advantage of a bathroom with loads of natural light by painting the walls in pastel to enhance the space's brightness. This master bath reflects a sanctuary-like vibe with mirrored cabinets reflecting the purple walls.
"A light purple mid-tone with a touch of baby-soft gray, this sweet shade is reminiscent of your little one's first outing on a chilly day."
Make it Your Own: