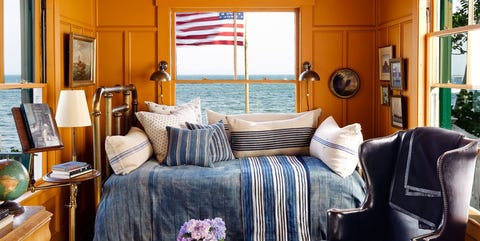 Add a little or a lot, go bright and bold or warm and cozy. Orange is a beautiful and contemporary color that can help you achieve your design goals across all styles and rooms. The color is known to promote general wellness and can have both calming and energizing effects, making it the perfect home mood-setter. Here are 15 inspiring ways to use orange in your home.
In this earthy, neutral-toned living room, autumnal orange striped chairs elevate the space without feeling out of place. Design by .
This color is a timeless orange hue that is elegant and fun, with creamy undertones and a subtle earthy feel.
Make it Your Own:
3
Upholster Chairs in a fun print
An easy way to weave orange into your home is through pieces that can easily be moved around for an instant pop of color. In this Fifth Avenue dining room, orange chairs complement the green glazed walls. Design by .
This color is a great autumnal orange, with rich brown undertones and an understated pop.
Make it Your Own:
5
Cover walls in geometrics
Enliven a bathroom's minimalist foundation with a geometric wallpaper. Design by .
This bright orange hue is both refreshing and deep, with slight black undertones that mellow it out ever so slightly.
Make it Your Own:
7
Extend the color to the ceiling
In designer Ken Fulk's Cape Cod library, the walls and ceiling are painted in Benjamin Moore's . The warm, saturated orange contrasts with the blues of the room and the view of the ocean, while its extension to the ceiling is a chic, understated detail.
Perfect for an accent wall or statement-making room, this decadent orange is ultra-saturated and perfectly timeless.
Make it Your Own:
9
Bring in matching pops of color
This sleek office is enlivened with creamy pops of orange. Design by .
A light orange with creamy peach undertones, this fruit-inspired shade is a great way to add color to a space without overwhelming it.
Make it Your Own:
11
Incorporate rich, textured accents
In Antonello Radi's 16th-century Umbrian home, a vintage vibe was achieved through burnt orange walls and ornate decor. Velvet chairs and antique mirrors and portraits create an understated glamour that complements the 19th-century mantel.
This sultry shade has a terracotta vibe, with deep red undertones that lend warmth and coziness to the home.
Make it Your Own:
13
Warm the space with wood
Wooden accents create a sultry vibe in this oceanfront apartment, while the dim, warm lighting adds coziness to the ultra-modern space. Design by .
This fiery shade will instantly energize a space, and is a great accent color that pairs perfectly with neutrals and cooler tones.
Make it Your Own:
When it comes to patterns, this home is proof that more is more. In Christina Juarez's apartment, the walls and vintage sofa in the home office are covered in a matching fabric from .
This warm shade combines a deep, energetic orange with subtle hints of black, exuding a one-of-a-kind antique elegance.
Make it Your Own:
17
Let the hearth inspire your space
The glow of the fire in this cozy living space is complemented with peachy orange furniture and deep yellow walls, while natural light subtly brightens the room.
Like peaches and cream, this shade is fruity and creamy all at once, creating a refined yet mild atmosphere.
Make it Your Own:
19
Soften up with textured walls
The carrot-colored wallpaper in this children's room has a delicate texture, making the bold color appear softer and more welcoming.
This high-spirited shade is perfect for an active, stimulating space in need of a strong color.
Make it Your Own:
21
Try cozy sunshine-inspired bedding
A great place to use orange is in your bedroom. The color is known to promote happiness and energy, so why not wake up to it every morning? This Ibiza bedroom is complete with a custom bench, bedding, and curtains.
This intense shade radiates throughout a space, while the darker undertones make it a practical color for most rooms.
Make it Your Own:
23
Keep orange hues together
While you may be inclined to scatter orange accents throughout your space, a unique alternative is to keep the pops of color together. The couch, pillows and ottoman are kept in close vicinity to draw the eye in. Design by .
With warm undertones and a beautiful softness, tangy orange is the perfect shade to delicately jazz up a space.
Make it Your Own:
25
Designate a statement wall
This simple bathroom was given life with a vibrant floral wall. If you don't want to commit to a fully orange room, a statement wall is a great way to start.
This crisp, bright orange packs a punch and is great for accent pieces, or in kitchens and play rooms.
Make it Your Own:
27
Create dramatic contrast
Dark walls in this moody London home put a spotlight on the statement orange couch that sits at the center of the room. By opting for darker surrounding decor, orange accents are sure to shine.
This shade screams "celebrate," and is a buoyant color perfect for spaces you love to socialize in.
Make it Your Own:
29
Add an autumnal banquette
The banquette in this Manhattan townhouse adds energy to the space with warmth and coziness. The olive green walls provide a refined backdrop for the statement furniture.
This hue will instantly bring your interior to life, and is ideal for brightening darker rooms or enlivening a neutral space.
Make it Your Own: