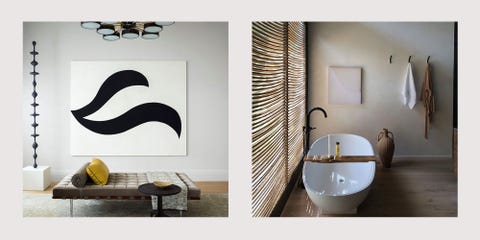 Nicole Franzen/Sarah Elliott/Eric Piasecki
In the vast and endless world of color, defining specific shades can be complicated. Indigo is a mix of blue and violet; amber is a yellowish orange; teal is a medium blue-green. While variations between bolder hues can be pretty confusing, neutrals are among the hardest to define. Taupe is a shade that falls right in that category, with properties of brown and gray and a spectrum of different undertones. It can feel warmer with hints of red, or cooler with hints of green, making it extremely versatile and timelessly popular.
Whether you're looking for a backdrop to bolder decor or simply favor subdued shades, taupe works wonders for home interiors across all styles and tastes. To prove just how gorgeous this color can be, we've gathered 10 of our favorite taupe rooms, with specific shades to help you get the look.
A sanctuary-like bathroom works with natural materials and a neutral palette in the home of Eyeswoon founder Athena Calderone. From the manila rope ceiling to the velvety taupe walls, a tactile comfort and a connection to nature come to life.
In a mid-century modern living room, statement furniture and art are grounded with a warm and neutral palette, including a vintage Mies van der Rohe daybed from upholstered in a taupe velvet.
Modern and mountain chic mingle on this Park City, Utah deck, where a taupe exterior perfectly complements the wooden roof and pale lounge chairs.
The dining room in this serene country house includes light taupe trim, playing into a monochrome palette while still remaining warm against the rustic accents.
In an art-filled Upper East Side home, exquisite architecture guides the design. In a doorway leading to the living room, the doors and ceiling are painted a warm and earthy shade of taupe.
A handsome bedroom sitting area unites grays of varying undertones: green-gray walls contrast with cool taupe curtains, and a light, textured gray rug balances it all.
13
Vintage Taupe Living Room
A Gramercy Park pied-à-terre brings the outdoors in with an old-world, vintage approach. In the living room, 18th-century antiques mix it up with Gustavian, mid-20th-century, and contemporary pieces, backed by walls in a beautiful beige-ish taupe.
15
Shimmery Taupe Dining Room
The sophisticated and youthful dining area of Colin Kaepernick's California home includes statement mirrors and lighting, backed by shimmery taupe walls that play up the metallic accents.
In a light-filled powder room, glass and mother-of-pearl tile cover the walls and play off of the geometric flooring, while coastal sisal wallpaper warms up the space.
The bedroom of a Paris pied-à-terre blends antique accents with a modern sensibility, including a fun gallery wall and a statement custom bed.