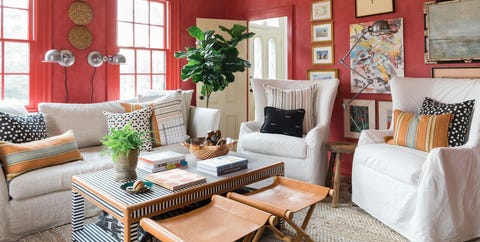 Even though red paint is a bold choice for an interior, there's a tasteful way to make it work for your design scheme. See the go-to shades of the striking—and tricky—hue top designers count on for rooms of all styles.

"One of my favorite red paint colors is from our Clare palette. I'm obsessed with . It's a deep, rich red that's bold and delicious and is named in honor of NYC, Clare HQ's hometown and the greatest city in the world." —
.
Sundried Tomato, Benjamin Moore
"This deep rusty red is sultry and beautiful. As someone who rarely uses color in interior spaces, this is one of those colors that I can pair back with grey, beige, concrete and rich woods that add depth and saturation without being too stately." —


Alizarin, Benjamin Moore Century
"It's my favorite red because it evokes the deep, dark red of a raspberry. One with hints of purple, green and blue. As in a raspberry that's found in nature." –

.
Rectory Red, Farrow & Ball
"My favorite red paint is Rectory Red by Farrow & Ball. It is sophisticated and looks divine lacquered a la Mrs. Astor's library by Albert Hadley!" —

"Rich, deep and complex, C2 Paint's 'Lavish #C2-518' is a most handsome red. I love that it works equally well in rooms paired with crisp white, allowing other colors to pop against it, as well as in sultry rooms, where it holds its' place as the life-source of a finely-tuned color palette." —
Exotic Red, Benjamin Moore
"This is my favorite red. The blue undertones keep it crisp and super sexy." —
Red Statement, Pratt & Lambert
"It reminds me of an Anish Kapoor sculpture—it is vibrant and alive! It is certainly a statement. —
Bull's Eye Red, Benjamin Moore
"Bull's Eye Red by Benjamin Moore is a surefire way to add a vibrant pop of color to any space. Use it to accent architectural details like a column or fireplace and create an unexpected focal point." —
Rustic Red, Sherwin-Williams
"I always lean toward a bricky red with lots of depth. This red is perfect for walls and trim in small spaces like a powder room or study." —
Dining Room Red, Alexa Hampton
"When I created my paint line with Colorhouse, I wanted to offer the tried and true colors that the firm Mark Hampton has used and loved throughout the years. When it came to devising a red, 'dining room red' was the obvious choice. It is the perfect shade of red because it has just the right amount gold and brown in its rich depths." — Alexa Hampton, creative director of
Bittersweet Autumn, Donald Kaufman Color
"The mix of pigments is vampy, saturated, clear and robust. It reminds me of all of the fabulous lipstick shades that I used to see on my mother's and sister's vanity growing up. They only used these lipsticks for "special occasions," and I imagine my advice for home interiors would be just the same with this color." —
Old Claret, Benjamin Moore
"I would use this red in a dining room mixed with an antique mirror, gilded furniture and a rock crystal chandelier. It is sophisticated and luxurious." —
Moroccan Red, Benjamin Moore
"This leans more towards an orange-red versus a blue-toned red. It reminds me of my favorite lipstick. It is sexy but also earthy. This color is fabulous for a statement piece of furniture (try it on a kitchen island!)." —
Real Red, Sherwin Williams
"My favorite reds are ones with a bit of orange in them, anything to avoid the dreaded 'cranberry' reference. This is a great balanced color with just enough orange, but not so much that it reads 'stop sign!'" —
Classic Burgundy, Benjamin Moore
"It is a deep red that adds drama to any style and pairs well with everything from pastels to bright colors." — designer Beth Partyka
Pomegranate, Benjamin Moore
"This red looks amazing with warm woods like teak and walnut, so it's the perfect compliment to a mid century aesthetic: rich, yet calming and elegant." — designer Alec Holland
Heritage Red, Benjamin Moore
"This red was designed specifically for exterior use and makes for a beautiful front door color. It reminds me of the big red barns found in the Scandinavian countryside. Although strong, it has enough black to keep it sophisticated and classic. It's the perfect choice for the traditionalist who still wants a bit of flair." —
Raspberry Truffle, Benjamin Moore
"It's a stately rich, bluish red that has just enough blue in it so that it whispers color, rather than shouts. It's a comfy, livable red that is perfect for any room of the house." —
Heart Throb, Sherwin-Williams
"It is a great true red. It's saturated and rich but also bright and cheerful. It works in both traditional spaces and modern spaces. I love to use it on anything from your front door to wainscoting to a whole room." —
Million Dollar Red, Benjamin Moore
"It is the perfect red with a hit of blue, so it works well with everything! I high gloss it on entry doors, but prefer satin finish for interior surfaces." —
Rectory Red, Farrow & Ball
"Rectory red is the perfect red. It's rich, happy and glamorous, and goes with everything!" —
Aniline Red, Benjamin Moore
"Red isn't the first color that comes to mind when thinking of cool color palettes, but I love the purple undertones in this one. It has a vibrant, youthful energy when mixed with chartreuse, and it takes on a much more moody, sophisticated feel when paired with an olive green." —
"For me, red can't look too terra cotta or everyday: It has to feel glamorous and worldly. Valspar's Cut Ruby is such a vibrant red." —
Dragon's Blood, Benjamin Moore
"It's tinged with just a hint of orange giving it a soft glow, especially at night. I suggest using it in high gloss in either a dining room or an entry foyer." —
"It's a wonderful Chinese red that works with blues and with oranges. It is bright and cheery but sophisticated." —
Нашел в интернете важный интернет-сайт про направление
https://best-mining.com.ua
.