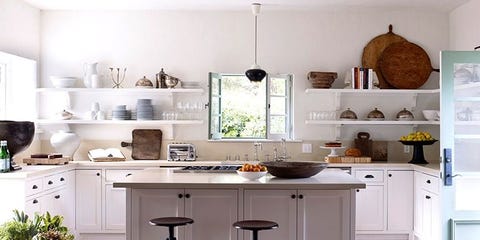 Exposed kitchen shelving isn't for the design shy. Visible organization exposes every nook, cranny, and piece of mis-matched kitchenware you own. It seems really intimidating, but with some pre-planning and creativity, this bold design trend is totally achievable.
Check out these cutting-edge kitchens for a little convincing that exposed shelving is a smart and accessible choice.

Paired with Chrome
Stark white storage shelves juxtaposed with chrome appliances make for a clean and modern look.
Design by
Storage Meets Design
Stack your favorite cookbooks to give your shelving some character.
Design by
Color Coordinated
Group kitchenware by color for a setup that's easy on the eyes.
Design by
Colorful Storage
Organize multicolored cups and plates for a vibrant showcase.
Architecture by
Cabinet-Free
Opt for shelves that are completely exposed to really show off your organizing skills.
Design by
Clear Cabinetry
Pair closed, glass cabinets with open shelves for a little contrast.
Design by
Country-Inspired
Open shelves can act as a second pantry if you style spices and dry ingredients in glass jars.
Design by
Floating Shelves
Rather than adding artwork to empty wall space, try shelving with stylish decor, like these floating shelves featuring chic ceramic pieces.
Design by
Mix-And-Match Storage
Place books and other accessories in between dishes for an eclectic touch.
Design by
Practical Shelving
Flank the stove with open shelving for easy-access cooking ingredients that also add some flavor to the space.
Architecture by
With Pops of Color
Use colorful decor to accentuate simple shelves.
Design by
Floral Fixture
Add a bouquet of flowers to your shelf for a fresh touch.
Design by
Clean Lines
Create a functional yet zen space with plenty of clean lines throughout the kitchen, like these floating shelves on either side of the oven.
Architecture by
Kitchen Bookshelves
Place a bookshelf in your kitchen for an extra cozy vibe.
Design by
Plants On Display
Add greenery for some calm amongst the chaos of a typically busy kitchen.
Architecture by
Stair-Step Shelving
Try offsetting shelves ever-so-slightly for an tasteful, artsy design.
Design by
Matte Black Shelves
Try bold black shelves for an added industrial aesthetic.
Design by
Above It All
Set shelves high for a clean kitchen workspace at eye-level.
Design by
Dramatic Lighting
Add accent lights below the shelves to create some extra drama.
Design by
Iron Shelves
Rod iron shelves are an elegant take on rustic decor.
Design by
Cornered
Install shelving in the corner of your kitchen to add some interesting depth to the space.
Design by
Easy And Accessible
De-clutter open shelves with just one or two accent pieces.
Design by
Shelves With Personality
Customize your kitchen with personal knick-knacks and books, especially if you have a cozy lounge nearby to read and enjoy them.
Design by
Minimalistic Chic
Match shelves and kitchenware for a modern and futuristic vibe.
Design by
Good China
Don't reserve your best china for special occasions, display them all year-round.
Design by
Wood And Glass
Pair glass and wood for a sophisticated yet modern look.
Design by
Appliance Storage
Truly make use of your exposed storage by keeping everyday items like your microwave or toaster oven on them.
Design by
Был найден мной классный веб портал , он рассказывает про
www.imagmagnetsns.ua
.