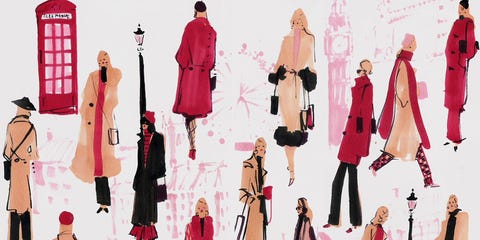 There are really only a few solid reasons remaining to brave the masses of Instagram influencers and attend fashion week. Among them: A or sighting, and to harness the inspiration you need to finally banish those bare walls inside your home.
If you aren't immediately connecting the dots to the latter, allow us to introduce you to . The LA-based illustrator got her start on Instagram and has since amassed a roster of clients that include fashion houses like Dior, Prada, and Christian Louboutin, whose collections she was commissioned to illustrate from the rows of fashion week.
Last month, Getrost returned to NYFW to launch her own collection: A series of chic fashion and beauty-inspired wall art. Three of the piece are mixed media, which Getrost says is new territory for her, while the others play to her obsession with negative space and minimalism.
Check out the collection below, which is available for purchase at online art dealer .
A classic beauty tool, stylishly reimagined.
From $170
2
Dolce & Gabbana Florals
Spring florals get an edgy twist in this 40 x 50 cm archival print.
From $170

Lithe figures weave through the city's simple delights in this cosmopolitan fashion illustration.

$75
Men in the foreground and women in the back, this piece is a nod to the unchanging nature of the way women are depicted in the media, and the unwanted male attention many face regularly.
$160
Long, lean fashion figures are reimagined as deities in a minimalistic beauty-themed illustration.
$305