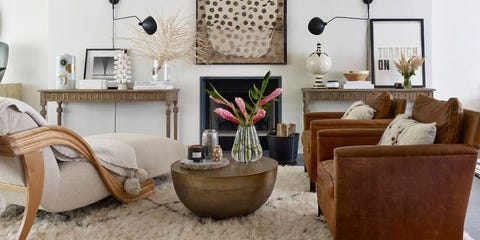 Possessing a knack for envisioning eclectic spaces, interior designer may as well be the queen of mixing different home styles. Whether it be placing an oversized bulb chandelier that's inherently modern over an antique, wooden table in your kitchen, to hanging a Warhol-esque piece of pop art above a patterned couch that gives off a bohemian vibe, Schuster shows that sometimes the less things seem to go together, the more they end up complementing each other. Here, she gave us some of her top tips for mixing it up in various spaces, to help you think outside the box and take design risks within your own home.
"Hang textured wall art on white walls to add dimension and interest, like the Gerald Bland gallery painting hung over the bed here."
Gerard Bland 'The Mercy of Words' painting, price upon request, .
"Mix horn and bone accessories from Blaxsand with affordable tableware like these raffia place settings from Serena & Lily to play up the high-low mix."

Serena & Lily placemats, $38 for set of 4, .
Blaxsand dining table, price upon request, .
"In modern spaces, play off the clean architectural lines by mixing in antique pieces throughout that feel worn and lived in."
1stdibs sconces, $1,650 for set of 2, .
"Classic motifs such as the golden key on this Wisteria console table help to add warmth and character to spaces that are heavy with modern décor."
Wisteria 'Golden Key' console, $999, .
"Get creative by framing your favorite wallpaper to hang over your sofa instead of investing in the more permanent option of covering your whole wall."
Phillip Jeffries wallpaper, price upon request, .
"Pops of color and light add interest to any room, so get creative with oversized colorful vases or mount some playful lights on the wall."
Mr. Brown wall lamp, price upon request, .
L'Objet vase, $595, .
"Don't be afraid of mixing textures and prints, as well as affordable and high-end items. Custom Fortuny pillows are a great high-end splash for any room and accentuate the leopard print sofa."
Fortuny pillows, $4,800 for set of 2, .
"To give a Lucite console table a modern twist, layer it over a wooden side table to tie together a room's mix of surfaces and textures."
RH Modern side table, $180, .
Interlude Home console desk, $2,025, .
"To inject a midcentury modern touch that won't break the bank, try accentuating a room with a chandelier."
France & Son ceiling lamp, $395, .
"Use a natural, handmade rug to tie together vintage finds such as these armchairs with store-bought treasures. Serena & Lily has a selection of similar woven rugs that look and feel beautiful."
Serena & Lily rug, $198—$1,298, .