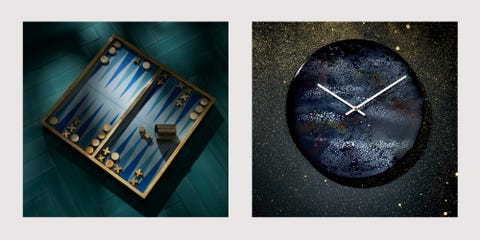 Over the past year, Siweb asked artisans to create a unique item in each issue which had no price tag. Now, all of these pieces will be auctioned off to benefit the charity of each artisan's choice for our inaugural "Not for Sale" auction. Preview the one-of-a-kind pieces in the auction below, and to start bidding.
By Lindsey Adelman, 2017


This limited edition wall-mounted candelabra is rendered in solid polished brass. Candlesticks are adorned with hand-sculpted 'fungus,' evoking natural phenomena.

By Julian Bedel, 2017

Bedel has created an intoxicating mix of flowers, resins, and woodhe calls Paraiso—literally, paradise—a place that you cannot buy but, now, you will be able to smell.
By Emily Thompson, 2017

Ostrich Egg vase depicting an ocean scene ofcormorants, a lobster, and more, all in Indiaink. When pitched correctly in its stand, thewater that the vase holds lines up with thedrawing of the surface of the ocean.
4
Hand-Painted Flemish Carpet Design Archival Document
Artist Unknown, Kravet Archives, Late 19th Century
The document comes from the Vanoutryve mill from France/ Belgium. They are a 6th generation family business that wove both carpets and upholstery fabrics. The archive designs of over 100,000 designs were located in the attic of the mill. The early designs date back to 1884 through 1940. Commissioned designs were purchased from the highest level of originality. This particular piece is a Flemish carpet-design motif hand-painted on point paper.
By Caitlin and Samuel Dowe-Sandes of popham design, 2018


Backgammon is one of the world's oldest board games, dating back some 5,000 years to Mesopotamia. This popham design Backgammon set is a personal ode to our favorite table game. The playing board is constructed of popham design signature handmade Backgammon concrete tiles set in a brass-clad frame. The thirty - and circle- shaped playing "checkers" are individually hand-cast and polished in our atelier in Marrakech, as are the leather-lined dice shakers.

6
Ariana Oeuf-ington "Fairy Berry"
By the Haas Brothers, 2018
This unique piece is part of The Haas Brothers' Fairy Berry series and hand-thrown in ceramics. Ceramic and brass in Lavender colorway.

7
Heath Clay Studio Clock
By Tung Chiang for Heath Ceramics, 2017


"The glaze you see is here about variation," said Heath Clay Studio Director Tung Chian. "It's a multilayered glaze, overlapping in different sequences, showing a depth you can't get in other glazes. I worked on this with Heath's master glazer, Winnie Crittenden. Winnie has been working with Heath over over 40 years and is also Edith Heath's niece. The glaze on this clock reminded us of how Edith worked: playful, spontaneous, and always up for trying something new. "

8
John Derian Picture Book Silk Screen Prints
By Donald Robertson, 2018
Donald's set of hand pulled silk screen lip prints signed and numbered and collaged with images from the John Derian Picture Book in a linen portfolio box set.
By Federico de Vera, 2018
Rare objects are increasingly harder to discover. With advancements in travel and the internet, unique decorative arts, antiques and jewelry become more commonplace. In referencing the concept of the early German Wunderkammer, Federico has created a series of one-of-a- kind objects with precious natural materials, found elements and unexpected craftsmanship to develop a new vocabulary of coveted treasures found only at de Vera. Materials in this piece include Mediterranean coral, gilded avocado seed , Venetian glass, and oxidized silver.
10
Liquid Teal Velvet Dress by Oscar de la Renta and de Le Cuona
By Bernie de Le Cuona of de Le Cuona; Fernando Garcia & Laura Kim of Oscar de la Renta, 2018
Bernie de Le Cuona coaxes untapped beauty out of traditionally glamorous velvet. Her cotton blend Liquid Teal fabric has the sheen of, as she puts it, "an exotic cat" - a quality that inspired Fernando Garcia and Laura Kim, the creative directors of the fashion house, Oscar de la Renta, to make this dramatic, custom and one-of-a-kind cape-back strapless gown.
By Bernhard Kühn, 2017
"The teapot is from Kühn's "Anatasia" collection. Handmade in Berlin by Bernhard Kühn, whose workshop is in the former laboratory of a 19th century apothecary shop, the one-of-a-kind piece is cast in clay from Germany's Westerwald mountain region and plated in gold. This artist's stunning work was spotted at John Derian's Provincetown, Massachusetts, shop-the ultimate trove of superlative curiosities."—Editor in Chief Whitney Robinson
By Alexander Lamont, 2018
Inspired by ancient Mayan temples and nearly eight inches tall, this tapering walnut box plays on angles, color and light. The spectrums that emanate from the corners are like streams of light; sunbursts created by the quality of the straw marquetry surface. The box itself is angled and tapering so it is a confluence of these leaning, flowing, streaming, gradating elements to make a box that is a repository for sunbeams, dreams... positive energies and precious ideas. The box is made from Walnut with silvered feet that were cast with a subtle straw texture, and it's signed by the artist.
By Jennifer Rubell, 2018
Created to celebrate the 30th anniversary of Siweb, this remote-controlled candelabra takes a now-ordinary household item —the flameless candle—and transforms it into a functional sculptural object. The work is actually a set of instructions, detailing its components and how to put them together. The collector can create it and recreate it as many times and in as many locations as he/she wishes, however it must be recreated exactly as described. Rubell gathered 30 wax-dipped LED tapers wrapped in festive red ribbon for this incendiary artwork.