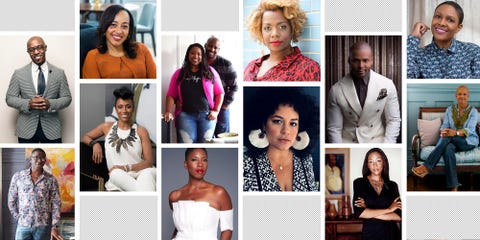 For Black History Month, it's only fitting that we'd choose to highlight interior designers and design tastemakers of color who are making their mark in a competitive industry. Here, a few of our favorites reveal the career gems that have contributed to their success to date. From generating multiple revenue streams to learning from failures, their advice is honest, motivating, and worth remembering the next time a career setback arises in your own life.

"One of things I've learned having my own design business for the past 25 years is that it's important to have different revenue streams to support your design business—that is why I've had a television show, written books and designed products. The more you diversify and the more flexible you are, the more likely it is that you will be around for the long haul." —
"My philosophy is don't worry about perfection. When you get an idea, take action. Just do it, execute quickly, and tweak later. Ten years in business and counting, and I still follow these steps." —

"Flip that thing that makes you insecure or stick out like a sore thumb into your signature! Own it, and allow your gift to make room for you." —

Jeanine Hays and Bryan Mason
"The most important thing that you can do as a creative is to be authentic to yourself. It's important to have a point of view and to understand how it contributes to the larger conversation. Our focus has always been on how the blend of modern design and culture serves to tell a human story in the medium of four walls. As people of color, it's important not only to find the aspect of your industry or craft that is uniquely your own, but to build and defend that space. For us, AphroChic is about expanding the notion of design as it is popularly held to include an approach that is uniquely African American, and is as easily recognized as Scandinavian, Japanese, or Danish approaches. It's that focus that's allowed us to build a strong brand where the affirmation of our culture, and our status as unabashed fans of it, is central to our practice." —

"Along the now 12-year journey of my career in interior design, I've learned to welcome the victories, failures, and all of the little moments of growth in between. With that acceptance, I now know that the key to success is preparation, owning what sets you apart, and embracing your doubts and fears, but never stop doing the work despite it all." —
"My keys to career success are summed up in four simple rules: (1) be unapologetic in your design style, (2) network from a place of giving, (3) nurture your craft and feed your creativity, and (4) compete with only yourself. Doing what you love is already a gift, but evolving as a designer and in your career is a blessing." —
"The biggest career lesson I've learned is to always follow the path of least resistance. When I first opened my firm, I would work seven days a week non-stop; I was near a breaking point when a friend recommended taking one day off. I gave it a try, and looking back, it seemed instantaneous: as soon as I stopped devoting 24 hours a day trying to prove myself, things became easier and everything started to flow naturally." —
"Sometimes when you are in the middle of a 'failure,' you can't see that it's part of a bigger picture. That failure is actually getting you a step closer to your vision. So the next time you have an idea that a client doesn't like, or that you just can't make happen in the moment, don't let go of the vision. You will always use it in another way, for another project, at another time. It's all a practice in moving toward your greater goal." —
"Creating positive ongoing relationships has always been critical to the success of every aspect of my work, not only with clients, but with showrooms, fabricators, co-workers, editors and writers and all others with whom I interact professionally. The good will that we project inevitably comes back to us in so many invaluable ways." —
"Trust your intuition. It will never, ever steer you wrong. When you meet that prospective client, and get a weird feeling in your gut about something they say/do, RED FLAG! It is not worth it. You will regret saying 'yes.' Every client needs to be what one of my spiritual mentors refers to as a full-body 'yes.' The same goes for interactions with contractors and vendors. When you get that subtle or not-so-subtle feeling, you must double-check what they are doing or claiming. YOU are the expert and project lead the client hired to basically manifest their dreams. All aspects of a project originate from you, so maintain that control by following your intuition." —
"The greatest lesson I've learned is the value of humility. The term 'humble' is derived from the Greek root word "humus" which, when translated, means dirt-like. Life in the interior design industry is full of ups and downs, and successes and failures. Sometimes there's a steep learning curve. But if you experience a disappointment or a setback, you won't have too far to fall if you remain grounded in the first place." —
"Some of the most beneficial business and career lessons I have learned over the years have centered around managing financial matters. After leaving the corporate design world and a steady paycheck to embark on my own interior design start-up, I quickly discovered that dealing with cash flow and any unexpected financial challenges was going to be not only important, but perhaps my biggest challenge as a business owner operating a boutique design studio. Embracing frugality, saving for future expenses, maintaining low overheads, and creatively marketing on a modest budget were all business practices I knew I had to adopt from the beginning."