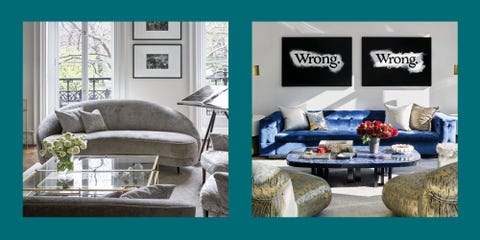 Douglas Friedman/James Merrell
While it is possible for anyone to craft an elegant space, it's easy to get confused when you have to define the difference between a chaise longue and a chesterfield, a settee or a love seat. For those of us who are in the stressful and confusing pursuit of a new sofa, it all starts with brushing up on your design vocabulary.
Understanding the distinguishing characteristics of a seemingly endless list of sofa types is a great way to ensure you choose the best option for your personal needs. Sofas can be classified by modern, transitional, and classic designs—each with many options and sub-styles to sort through. Before you let the vast and complicated sofa-sphere scare you away entirely, we've put together a comprehensive yet simple guide to understanding the most common sofa styles.
We're defining the design of each, so you can not only spot the difference between a cabriole and a camelback, but you can explain it, too.
Known as the "family sofa," sectionals are a great option for people who prefer to customize their sofa configuration and style options. Sectionals are defined as having sections (separate pieces) that can be attached to one another to achieve the desired look. They are made up of more than two pieces. With a sectional, you have many options, including attaching a settee to a chaise, a sofa to a corner seat, etc. The pieces you choose for your sectional will determine the shape and size of the sofa.
Some terminology to know before purchasing a sectional:
1) Right Arm Facing (RAF): When you are facing the "section," the arm is on your right.
2) Left Arm Facing (LAF): When you are facing the "section," the arm is on your left.
While sectionals are a very popular option, it's important to fully assess your floor plan before you begin shopping for this type.

Odyssey Sectional, $1,060
A simple and classic sofa, the Bridgewater is defined as having a low profile and low arms that are set back from the frontmost part of the sofa. A traditional Bridgewater sofa features a skirt and a rolled back. The looseness of Bridgewater backs and cushions makes them a great pick for those who want adjustable firmness.

Brooke Bridgewater Sofa, $2,295
A track arm sofa features arms that are straight and square. The straight lines, clean silhouette, and contemporary feel of a track arm sofa make it so popular in modern-style homes. Track arm sofas are popular among apartment-dwellers due to their compact form that comes from their angular, non-curved silhouette. If you're looking for a more subdued modernity in the style of your sofa, the track arm is a great option.

Barrett Leather Track Arm Sofa, $2,749
While a love seat and a settee are often used synonymously, there are actually some differences between the two. While a settee traditionally fits two or more people, a love seat is designed to specifically fit two. Unlike settees, loveseats are always sold as an individual piece of furniture, and cannot be attached to sectionals (sectionals use settees).

Canh Loveseat, $700
The récaimer is another historic sofa style, originating from the French hostess, Julie Adélaïde Bernard Récamier, who was painted by Jacques-Louis David, sitting on a backless couch (now, the récamier). The récamier can be best described as a backless daybed with two scrolled ends.

Linwood Recamier, $200
According to , the Knole sofa has a deep history that dates back to the 17th century. Originally created as an upholstered settee for the historic English house, Knole, it was one of the first-ever designs of its kind. The Knole set the stage for many sofas and couches to come. In modern day, the Knole sofa is a settee defined by its adjustable arms and deep seat. Typically, it has exposed wood detailing and finials, and (most distinctively) features side arms tied to the back of the sofa with braids or tassels.

Knole Sofa, Price Upon Request
The term divan originated in Persia. Traditionally, a divan refers to a long seat made from a mattress that is placed against a wall with cushions to lean on. The modern-day divan has a mattress-like seat that is tufted and sits on a low-profile frame. Divans are still typically placed against a wall and decorated with pillows, and are often used as a bed for guests. According to Houzz, "think of the divan as the daybed's older, more lounge-worthy sibling."

Lubi Divan-Style Sleeper, $900
See the way the legs of this sofa curve outward and down, sort of like the ballet movement? This style of sofa—popular during the first half of the 18th century—is characteristic of Queen Anne, Louis XV, and Chippendale furniture. As points out, perhaps the most famous cabriole is the sofa that Tom Cruise jumped on when he declared his love for Katie Holmes. (Now you'll never forget what a cabriole is, right?)

Cabriole Maison Sofa, $2,817
The camelback sofa has an arched back that reaches a higher point on either side–just like the animal it's named after. According to , the back typically has one or two humps. It's a traditional style that creates an elegant look in any home.

Lydia Camelback Sofa, $2,195
According to , "chaise" derives from the term "chaise longue," meaning long chair. This illustration recalls a more contemporary shape, but the seat can also be contoured to your back. Think: The sort of sofa you might see in a psychiatrist's office.


Copine Velvet Chaise Lounge, $1,299
The easiest way to know if the sofa in question is a Chesterfield? Check out the deep button tufting on the back. Its arms are rolled, and are the same height as the back, according to . Often made of leather, it's the sort of piece you would expect in a sophisticated library.

Chesterfield Leather Sofa, $3,300
This one's easy: points out, a daybed can be used as a sofa by day and a bed by night. If you have houseguests often, it's a natural choice for when you need extra sleeping space.

Darcy Daybed, $1,498
The rounded arms define this style of sofa, whose loose cushions on the bottom make it a super comfy choice. The back of the seat is typically tight–meaning the cushions aren't removable, according to . Think: The on "Friends."

Carlisle English Roll Arm Sofa, $1,500
Unlike the English Roll Arm sofa, the back cushions of a Lawson are also loose, according to . The arms aren't necessarily rounded, either. A perfect option for your media room, if we do say so ourselves.

Lawson Sofa, $1,060
The settee is a go-to for small-space dwellers, according to . It's defined by a straight back and space for two or more to sit comfortably.

Jolinda Swoop Settee, $292
Like the Chesterfield sofa, the arms and back of the tuxedo sofa are the same height. Unlike the Chesterfield, the sofa is clean-lined and geometric, and often upholstered with fabric, according to . This buttoned-up style is the furniture equivalent of the suit it's named after: timeless and modern all at once.

Aiden Velvet Tuxedo Sofa, $2,500
Characterized by a clean-lined, rectangular shape, tufted back and seat cushions, and solid, wood legs, the Mid-Century sofa is the ideal choice if you love the "Mad Men" aesthetic. In fact, in 2009, , named after, you guessed it, Don Draper. Marital strife not included.

Modway Mid-Century Modern Sofa, $1,470