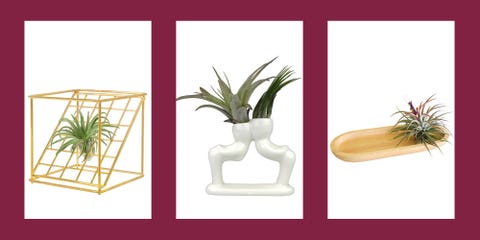 There's a reason why air plants—also known as Tillandsia—are one of the most popular indoor plant types. For one, there are nearly 500 different species of this flowering perennial, boasting a variety of exotic shapes and vibrant colors. They are also durable, adaptable, and require no soil to grow (you heard that right). Instead, air plants sustain themselves on moisture from the air, and naturally grow off of tree branches, rocks, or other plants. So if watering that succulent every two weeks proved to be an elusive ambition, the air plant is for you.
The air plant's minimal root system makes displaying them in a variety of holders, from traditional pots to macrame hangers, quite simple. Read on for 10 of our favorite ways to display the almighty air plant.
The natural rubber wood of this sturdy display tray is a great tabletop accessory for displaying an air plant.


Rubber Wood Air Plant Display Tray, $13
While terrariums are a great option for a variety of houseplants, they are a total creative playground for air plants. Add pebbles, rocks, moss, or seashells for a cute and customized look.


Terrarium Cube Glass Planter, $16
Add a touch of greenery to your boho decor with a hammock-style macrame plant hanger. Whether you opt for a pot or leave the plant bare, a macrame holder brings texture to an earthy look.

Macrame Rope Wall Hanger, $19
4
Sculptural Ceramic Holder
Sculptural holders are a quirky and easy option for air plants, as you do not have to worry about soil or watering.

Little People Air Plant Holder, $9
Given the air plant's lack of roots, a hanging glass planter gives you a 360-degree view of the diminutive yet intricate plant.


Glass Teardrop Hanging Planter, $42
Designed specifically for air plants, this gold frame is a great decorative accent that provides the perfect place to prop up an air plant.


Tabletop Metal Stand, $10
A triangle display shelf is a pretty place to prop your air plant, and can be stacked with other decorative pieces for a beautifully curated look.

Air Plant Gift Set, $18
Multifunctional and stylish, this air plant frame is designed for light exposure and comes with hooks for miscellaneous home items.

Air Plant Frame Wall Hanging, $17

9
Stainless Steel Plant Stand
Small, portable, and sleek—this air plant stand is ideal for displaying a variety of species, where the plant is the star of the show.

Air Plant Stainless Steel Stand, $7
While there's a wide variety of creative ways to display air plants, sometimes the simpler the better. Here, concrete sphere planters provide a classic look for your exotic air plants.

Concrete Sphere Planter, $10