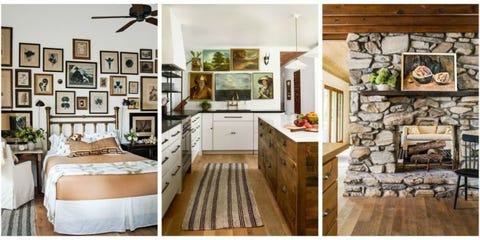 In her new book Habitat: The Field Guide to Decorating, designer Lauren Liess shares her favorite, not-always-conventional ideas for livening up any space with art.
No above-the-sink window? No problem. In this kitchen, a seascape oil painting provides the makeshift scenery and sets the tone for the remaining palette of golds, blues, and greens. Get the Look: Take your pick of oil landscapes at .
"For a looser, salon-style arrangement that feels collected, start at the center and move outward," says Lauren, who created a gallery wall in her master bedroom. To keep the display from feeling haphazard, pick an overarching theme or color (here, pressed botanicals in a palette of black, white, and tan).
Get the Look: Find pressed botanicals at or search "Karl Blossfeldt" on for black-and-white versions, like those shown at right.
Use art to play with scale. For instance, these Chippendale chairs felt a little squatty when placed alongside this massive antique hutch, so Lauren filled in some of the negative space with canvas oil portraits. "The muted colors complement the furniture as opposed to competing with it and make for a more eye-pleasing vignette," she says.
Get the Look: Search "oil painting portrait" on .
Anything can be "art," so don't overlook pieces with texture and patina to add organic style to a space. "I love this cypress driftwood that my father found on a Georgia fishing trip for its large scale and sculptural aesthetic," she says.
Get the Look: For authentic, sun-dried wood pieces, visit .
Whether it's a vintage school chart like the ones shown here or an unmounted canvas tacked to the wall, Lauren often incorporates unframed pieces for a casual, come-as-you-are vibe. She especially favors the look for high-traffic areas such as hallways and children's rooms.
Get the Look: Score an assortment of pull-down diagrams at .
Ideal for tight areas, such as between windows or a corner wall, a vertical arrangement elongates a narrow space. "For a playful twist, I will mix in one piece notably wider than the others," Lauren says.
Get the Look: Choose from thousands of black-and-white photos (originals, not reprints!) at .
One oversize piece like this 45" x 72" John Muir Tribute Tree makes a towering statement in a sitting area. Plus, a single showstopper can often be more economical than piecing together an entire gallery wall. (To save even more, skip the frame.)
Get the Look: Try the 42" x 56" print of Da Vinci's Drawing a Tree at .
Sometimes, less truly is more, especially when working with a textured backdrop. Here, a simple painting of a melon doesn't fight with the more textured background. Simple graphic pieces also tend to work well against busier wallpaper patterns. Get the Look: Check out the "paintings and artwork" section at .
For more design tips, check out Lauren's new book: Habitat: The Field Guide to Decorating, $32;
Pin these design ideas for later. For more, follow Siweb on !