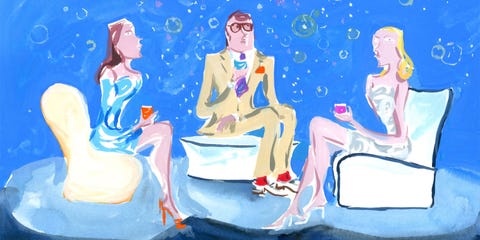 Illustration by Jean-Philippe Delhomme
At the annual Milan Furniture Fair, where global design talents come together, the most innovative and playful minds were thinking creatively about how we will live in the coming years.
Some strong trends emerged.
Clockwise From Top:
Shimmering Sea light fixture in laser-cut steel and Swarovski crystals and Honeycomb wall system with Swarovski crystals and LEDs, both by .
Nuvola di Luce chair and Pulsar Large table, both in elastic mesh and steel with LEDs by .
Sabinas lamp/chair of polyethylene and LEDs by .
Clockwise From Top:
Screen System mobiles/room dividers/sound absorbers in metal and thermo-welded fabric by .
Privacy panels in steel and polyester fleece by .
Shimmer low table in multi- chromatic glass by .
Idlewild hand-knotted rug by .
Ro leather easy chairwith aluminum legs by .
From Top:
Seymour modular sofa by .
Butterfly indoor/outdoor modular sofa by .
Lario modular sofa by .
This story originally appeared in the September 2015 issue of Siweb.