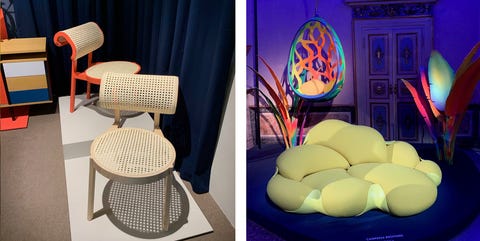 Milan Design Week and Salone del Mobile are over and done with. Everyone is back home digesting (literally and figuratively) all of the inspiring exhibitions that were on display. Here are the key design takeaways that are worth noting.
The bright, vivid colors of the 1970s and '90s are back! Shown here is the exhibition by for .
Lanterns seem to be the shape of choice these days for lighting, whether they be made from paper, fabric, or Murano glass like these by shown at .
It's spring, and flowers are blooming all over the design world. From left, a sconce by for ; a new rug by ; and a decorative objet from .
Boxiness has been eclipsed by luscious curves, including on case goods. This new Daniels seating system by for allows you to create whichever curvy configuration you desire!
The old-world technique of caning is still going strong, but brands keep reimagining it in more interesting forms and shapes, such as these chairs by .
Marble was everywhere this year, ranging from , known for using the material, to furniture, but the key is using different colorations of the stone, as in this sideboard from .
Fringe is back, and it's here to stay! Not only is it on furniture, it's also showing up in lighting, like in these fun chandeliers and table lamps by .
8
Architectural Aesthetic
Are these buildings or tabletop accessories? deployed architectural details to create their marble wine coolers by .
Designers are looking to nature for inspiration for their silhouettes. Why not create an urban garden of furniture in your home with these pieces by the for 's Objet Nomades collection?
Texture, texture, texture! Not only does your decor need to look good, it also needs to feel good, and companies are going all out to make that happen! From left, a sculpture by shown at ; a bookcase by for ; and a coffee table by shown at .
Saving our world is an ongoing focus of the design community, and in particular had a whole exhibition dedicated to reusing plastic. I especially loved these glasses that are made out of water bottles!
Wovens are back, from wicker to basket weaves. From left, a new picnic basket by ; baskets by ; and a chandelier with wicker shades by .
Fitness was definitely the theme of the week, and coming first to mind is the new Athletae Gymmetria collection by , with hand-painted athletes over Deco-themed plates.