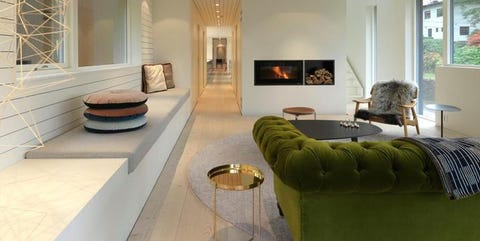 Saunders Architecture designed a modern house immersed in the green, for a couple with children in the residential area of Bergen, Norway.
The structure, composed of three joint volumes –one vertical and two horizontal– is totally covered by dark wood panels and features a terrace and a veranda, partially covered in order to take profit of the garden even when the weather is not ideal.
Developing on a surface of 350 square meters, the villa is organized around the spacious living area on the first floor. Heart of the project is the living room with wall mounted fireplace, furnished with the Munro green padded sofa by Donna Wilson for SCP and a Scandinavian vintage seat. Here the family sit together to enjoy a book or the warmth of the fire.
Beside lies the kitchen, in line with the dining room: here vintage pieces, such as the wooden table, and design furniture –Copenhague seats by Ronan and Erwan Bouroullec for Hay– mix in a modern atmosphere. The staircase is rather evocative, total white and elegant under the sign of minimalism, flaunting a Day Bed One sofa by Another Country and a bath of natural light.
All around, larches and pine trees.
Opening photo: A RATHER WELCOMING ATMOSPHERE DEFINES THE LIVING ROOM OF THE NORWEGIAN VILLA DESIGNED BY SAUNDERS ARCHITECTURE IN BERGEN. GREEN PADDED SOFA BY DONNA WILSON FOR SCP. SMALL BRASS TABLE HABIBI BY PHILIPP MAINZER FOR E15.
BOTH MINIMAL AND COSY, THE DINING ROOM IS INCLUSIVE OF THE OPEN-PLAN KITCHEN DESIGNED BY KVÄNUM, DANISH VINTAGE TABLE AND COPENHAGUE SEATS BY RONAN AND ERWAN BOUROULLEC
MODERN AND MINIMAL LINES, JOINT VOLUMES AND A DARK WOOD ENVELOPE DISTINGUISH THE DESIGN OF SAUNDERS ARCHITECTURE FOR THIS FAMILY VILLA IN BERGEN, NORWAY
LEFT. STEPS MADE OF LOCAL STONE LEAD TO THE ENTRANCE OF THE VILLA. ALL AROUND, LARCH TREES, PINES AND A PLEASANT RELAXING GARDEN. RIGHT. A MODERN CUSTOM-MADE TOTAL WHITE STAIRCASE LEADS TO THE FIRST FLOOR. SOFA DAY BED ONE DI ANOTHER COUNTRY
DOUBLE WATER BASIN FOR THE BATHROOM ON THE FIRST FLOOR. HANS WEGNER VINTAGE BENCH AND KNOB SERIES BY TOM DIXON
DOUBLE BEDROOM ON THE FIRST FLOOR FOR THE VILLA DESIGNED BY SAUNDERS ARCHITECTURE. BED PARDIS BY PHILIPP MAINZER FOR E15. JAKOB KJAER VINTAGE SEAT
A SUSPENDED BRIDGE CONNECTS THE TWO VOLUMES STRUCTURING THE VILLA