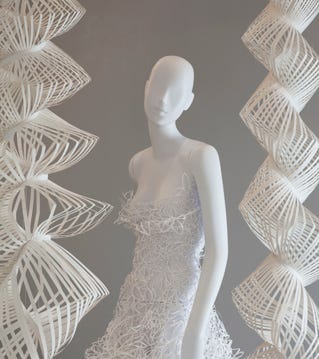 Photo: Antoine Bootz. Ralph Pucci Mannequin, paper dress <br>designed by students Navjot Kaur and Emily Kauffelt, and paper<br> sculpture designed by student Melody Hill.
Students at Pratt Institute in New York City have teamed up with furniture dealer and mannequin innovator Ralph Pucci to take paper from sheet to chic. Fifty artists, couturiers, decorators, and industrial designers (in the making) crafted paper fashions and sculptures, 24 of which were selected by Pucci for the exhibition. The creations will be displayed in his Gallery Nine Showroom and the paper clothes will dress Pucci's latest mannequins. The top designs will be picked by a panel of judges including fashion designer Anna Sui, Bergdorf Goodman's Linda Fargo, and interior designer Vicente Wolf. Check out the intricate pieces by these future design stars for a taste of things to come.
Pratt + Paper & Ralph Pucci, Gallery Nine Showroom, 44 West 18th Street, 9th Floor, December 8-10, 11 a.m-4 p.m.; .