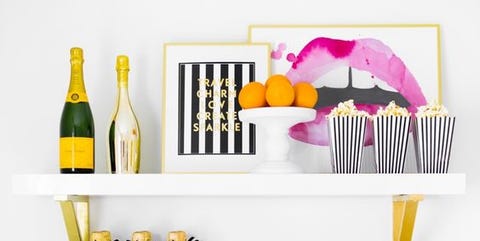 We've all had that moment when you're scrolling through Pinterest looking for ideas for your home and you come across something so clever that you want to kick yourself for not thinking of it earlier.
Since none of us have time to spend sifting through everything in our feeds for that aha! moment, Pinterest did the work for us, scouring through thousands of pins to see what home organizing and decorating solutions people couldn't stop saving to their boards this spring. They uncovered 20 stylish ideas that not only will work for any kind of budget, but also can be used in rentals and require little-to-no DIY skills.
See Pinterest's full here.
1
"No Closet" Closet Solutions
Moving into a room that doesn't have any closet space? Don't freak out. Pinterest has plenty of DIY solutions to solve that problem.
2
Pantry Styling and Organization
Think styling your pantry is silly? Think again. Swapping out the packaging your food comes in for reusable containers not only keeps them fresher, but also keeps your cupboard more organized.
The foyer is the first thing people see when they enter your home, which is why people on Pinterest can't stop saving creative new ways to personalize their entryways.
4
At-the-Ready Linen Closets
While scouring Pinterest for ideas for organizing their linen closets, pinners are also searching for ways to make them more convenient for guests to use.
5
Under-the-Sink Bathroom Storage
You'll find all sorts of clever ideas for maximizing your under-sink storage space on Pinterest, like this Lazy Susan trick.
In a home full of rectangular furniture, a circular mirror adds a bit of variety to any room. We're partial to this one from IKEA that costs less than $100.