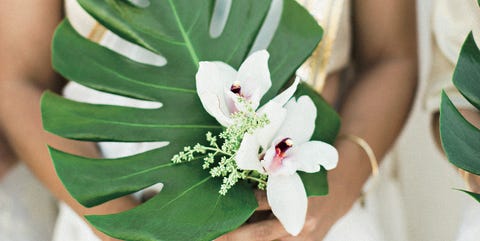 Minimalist brides, look sharp: a new floral trend is emerging in 2018 to eclipse last year's favorites. Out with the all-greenery arrangements, in with the single-stem bouquet.
According to , "Single stem flowers are making a comeback. Opt for a sculptural stem, like an oversize tropical leaf, a calla lily, or a big-headed bloom like a peony or dinner-plate dahlia for maximum effect."
Not only is the trend daringly pared-down, opting for quality over quantity, it can also be an attractive option for the bride on a budget. A chic single bloom done right can have just as much impact as a full bouquet, but at a fraction of the cost.

Brides who prefer the look of a full bouquet for their own respective walks down the aisle might also consider the single stem trend as an option for bridesmaids and flower girls — a maid-of-honor juggling responsibilities the day of might find it easier to manage with just one gorgeous bloom to keep track of.
Orchids nestled against a large tropical leaf create all the visual drama of a bountiful bouquet, but trade cascades of blooms for the strong, clean lines.
Image via
This beautiful and sculptural dahlia pairs with a single spray of lacy greenery to set it apart from the attendant's champagne-hued gown.
Image via
Instead of handing your flower girl petals to scatter, why not send her down the aisle with a simple, sweet rose? This shade of creamy blush is perfect for the little one in your life.
Image via and
A spiky, architectural protea is the perfect avant-garde touch to give your wedding design palette just a hint of edge.
Image via and Delovely Creative
This dramatic, starry dahlia requires no accompaniment. Pair a single bloom the size of a dinner plate with chiffon gowns for your attendants, to luminous effect.
Image via