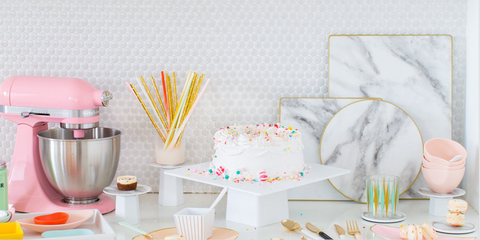 Say goodbye to cheap paper plates and boring plastic cutlery! with , an award-winning DIY blog by Ashley Rose, is packed with multi-functional and adorable dishware, serveware, and more. The options are endless — choose from soft colors, bold patterns, and eclectic designs. Whether you're hosting brunch, Easter, or bridal shower, this line is a must for any hostess with the mostest who also wants to avoid post-party cleanup (a.k.a everyone).
This 36-piece plastic cutlery set looks like the real thing with metallic gold accents and all. Choose the color palette — black, white, mint, or peach — that best fits your fête.

$10 for 36-piece set
Forget late-night dish duty — serve some bubbly in these elegant disposable champagne glasses. They can also be used for ice cream sundaes or sorbet — a two-for-one deal!

$10 for four
Bring the party to your table with these colorful, gold foil-lined dinner and dessert plates. A hodgepodge of shapes and color (ah, the marble!) will add whimsy to even the most elegant affair.

$10 for 16
Sip on cocktails, fizzy drinks, and even plain ol' soda with these adorable paper straws. How sweet!

$10 for 125
Up the ante with these cute-as-a-button dessert cups, perfect for ice cream, puddings, parfaits, and more. Plus, each cup comes with a matching spoon!

$17 for four
These gorgeous napkins double as decor. Take your pick: bright patterns, scalloped edges, or pastel hues (or all of the above).

$10 for 32
This no-fuss cake stand can be used time and time again. Just take off the base, wash it, and pack it away until you have another reason to celebrate!

$25
Charm your party guests with these beautiful ombre glasses. Or go all out with the line's funky cacti and diamond tumblers. No matter what you choose, they'll be a hit (especially when paired with a matching straw).

$13 for four
9
Serving Tray and Condiment Cups
Because ketchup deserves its own dish — obviously. Serve all of the dinner or dessert fixins' in these retro-inspired bowls. Think: Taco bars, ice cream sundae bars, or even mimosa bars.

$25