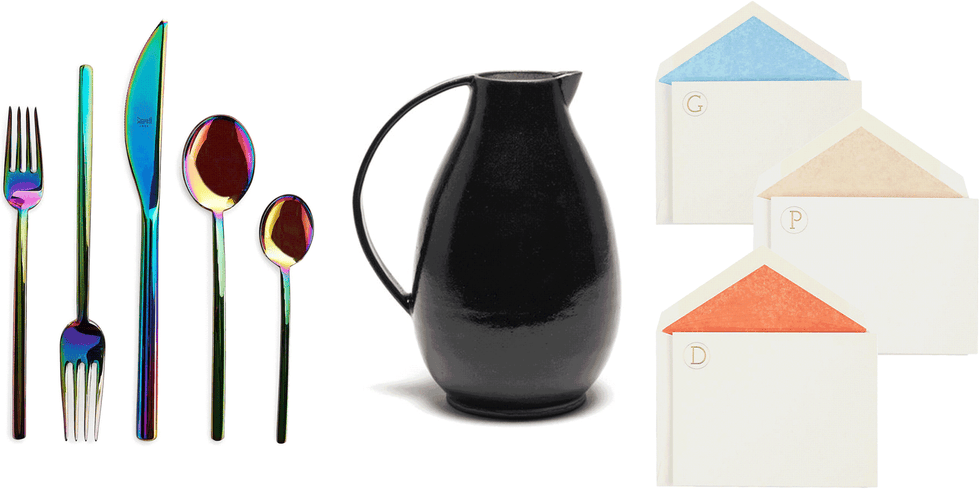 Your friends are engaged, and while celebrating with them is top priority, the pressure to give them a token of your love for their love is mounting. If you get in early with just the right thing, they'll likely remember your gift over almost all others. Here, our top picks–from grand gestures to small tokens–for your favorite soon-to-be Mr. & Mrs.
Decorative objets–like this super chic brass dish–are the kinds of gifts your friends won't think to register for but are going to use non-stop. Lue extra-large brass dish, $240, .
Give your friends something they can use on the daily–they'll be getting enough porcelain, crystal and fine china to store for special occasions. Object & Totem onyx pitcher, $150, .
Coffee table books that your friends will enjoy but will also look incredible in their seating areas are always a good idea. Garry Winogrand edited by Leo Rubinfien by Yale University Press, $85, .
Your friends probably have their way of preparing coffee each morning, but it's likely not as chic as this metallic French press. Start off your string of gift giving with something affordable for you, but luxurious in feel. Gifting in theme is both memorable and thoughtful, so snag the cups and saucers off their registry and add in a bag of artisan coffee beans for their wedding gift. Bodum copper french press, $60, .
Your newly engaged friends have one thing in mind–celebrating. They'd rather enjoy the moment than answer the litany of questions coming their way about their venue, date, honeymoon and overall wedding planning. Give them a bottle of bubbles they likely would never splurge on to enjoy at home for date night, or with close family and friends. Dom Perignon Brut Vintage 1996, approximately $640, .
Suggest a scent (nothing too pungent or polarizing!) that you love for couples looking to upgrade their shared living space, or to make their new home together that much more sophisticated. Maison La Bougie scented candle, $44, .
Gifts that are multi-purpose–like a marble slab that doubles as a cutting and serving board while also being a chic way to display items in your kitchen–are the ones your friends will find themselves using non-stop, and being all the more grateful for. Crate & Barrel marble pastry slab, $49.95, .
Save the formal dinnerware for the wedding gift and purchase something fun you'd love to have in your home. iridescent 5-piece flatware set, $195 each, .
Encourage your friends to enjoy each other's company at a time when they'll likely be invited out more than ever. Give them one of Blue Apron's easy packages where ingredients and recipes are shipped to you the morning of to allow you to cook fresh, seasonal meals without the stress. Blue Apron 2-person plan, $60 for one week, .
Your friends are about to have to send some thank you notes–lots of thank you notes. Give them a head start by gifting beautifully designed cards with their monogram; odds are, ordering personalized note cards aren't at the top of their to-do list. Connor notecards, $75 for set of 12, .
When it comes to remembering your wedding in the sweetest and chicest of ways, Instax is the new Instagram. Fujifilm Instax Mini 8 camera, $59.99, .
The bride will likely be receiving kitchenware and appliances from every one of her guests–stand out by surprising her with a small token for her to enjoy on her honeymoon. Kayu 'St. Tropez' monogrammed tote, $125, .
Give the gift of good vibes to the bride-to-be; she'll need your support during the planning process, and will likely treasure a piece of sentimental jewelry from a close friend now more than ever. Tiny Om chakra bracelet, $385, .
Brides to be are in need of pampering, and busy ones can't afford to spend all day at the spa. This box of goodies is a quick fix for your bestie who needs to chill out, but on her own time. Simone LeBlanc relaxation gift box, $250,
His and hers pajamas are a sweet token for those couples moving in together, and a subtle nod that you acknowledge the newly betrotheds' need for some R&R after all the engagement festivities and fodder. Sleepy Jones 'Mariana' pajama shirt, $138, and cropped pant, $98, .
Little luxuries, like a satin sleeping mask, will make long flights and late nights on bachelorette weekends, meet-the-parents trips and honeymoons that much more enjoyable for the bride-to-be. Morgan Lane x Amanda Fatherazi sleeping mask, $110, .
Something More Comfortable
Bridal showers are typically packed with cheap lingerie in every shade of bridal white or 'something blue'. This is your chance to give the bride something she'll look forward to wearing–in a color and style (blush, oxblood, black or navy are recommended!) she (and her husband to be) will appreciate. La Perla chemise, $475, .