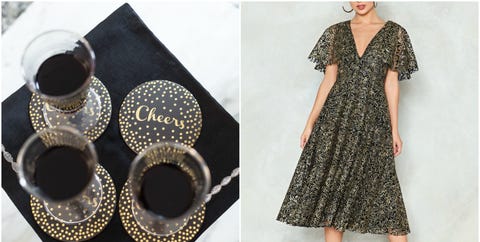 Fashionable Hostess / Nasty Gal
Let's be honest: All the fun in hosting a party is planning the affair, and picking out the perfect outfit for the night of. Shop and plan your heart away with these decor inspiration shots and hostess dresses to match.
Decor: Black With Glints Of Gold
Aiming to evoke a classic Kate Spade vibe at your party? A clean black palette speckled with shimmery gold dots and bouncy calligraphy is your recipe for success, as proven by this vignette from .
Dress: Cape Going Glitter Dress
Decor: Gold Fringe
Rarely do bohemian and city glam styles intersect, but this party from perfectly pulls off their marriage. You can pull it off, too, buy covering your party with fringe — but keep it a metallic hue.
Dress: Rochas Sleeveless Sequin Fringe Dress
Decor: Tinsel And Florals
This festive decor scheme, via , uses bright colors and plenty of metallic sparkle to ring in the New Year. Combine tinsel with tropical florals for a light and fragrant holiday.
Dress: Erdem Emery floral-embroidered sequin dress
Decor: Pretty In Pink
Make sure your New Year celebration is as lovely as you are, and stock up on sweet, subtle decorations in an array of blushing pinks, like this theme via . Start your New Year's on a refined, rosy note with pale pink meringues and the champagne-hued decor to match.
Dress: Drunk in Love Slit Dress
Decor: Minimalist Cocktail Hour
For a pared-down New Year's look, set up an old-fashioned brass bar cart worthy of Ernest Hemingway, ala , and go light on the holiday touches. A few tapers and sprigs of greenery are all it needs.
Dress: Stila Embellished Short Fitted Dress
Decor: Silver & Sparkly Everything
New Year's Eve is the one day your decor theme can incorporate shine, shine and more shine. This party from features a myriad of shiny silver decorations, anchored by a plain white table with treats.
Dress: Sally LaPointe Sequined Strapless Dress
Decor: Mysterious Midnight Blue
As you wait for the clock to strike twelve, surround your guests with midnight blue hues, such as in this New Year's Eve party from , for sophisticated yet seductive allure.
Dress: By Malene Birger Chiffon And Satin Midi Dress
Decor: Black And White
On New Year's Eve, you can never go wrong with classic black and white — with glimmering accents. It's a classic balance of femininity and masculinity, and in this New Year's soirée from , the high-gloss sheen of the napkins makes each place setting feel glam.
Dress: Jason Wu Embellished Crêpe Dress
Decor: Star-Studded Chic
A star-studded New Year's Eve is always a welcome idea — just ask the planners of "Dick Clark's New Year's Rockin' Eve with Ryan Seacrest." Scatter metallic stars over your party tables, centerpieces and other decor for an easy way to top the night off with a glimmer, as this party from so elegantly does.
Dress: JUST CAVALLI Sequined Star Dress
Decor: Feathery Pink
For an unconventional twist on New Year's Eve decor, this party from features feathers dipped in shimmering metallic paint and shades of rose-petal pink — a perfectly chic (and Insta-friendly) combination.
Dress: Alice + Olivia Philomena Feather Dress
Decor: Green & Earthy
Not all New Year's Eve celebrations have to borrow inspiration from bustling cities. For a bohemian-themed celebration, incorporate matte gold and black decor (like the starburst drink stirrers here) with natural elements such as green plants and wood slabs, as in this New Year's celebration from .
Dress: Maria Lucia Hohan Pleated Lamé Midi Dress
Decor: Turquoise With A Side Of Shimmer
Turquoise is a youthful, unexpected burst of color — so try it out! Here, it sweeps a New Year's Eve dinner from with a sense of twinkling optimism for the upcoming year.
Dress: Burberry Embroidered Tulle T-shirt Dress
Decor: Gold Blooms
As a new year blossoms, add a bit of spirited, springy decor to your dinner party (it'll be especially well-welcomed if you live in a snowy climate!). In this tablescape from , a black vase anchors wildly arranged gold and white blossoms and a "Happy New Year" sign.
Dress: Michael Kors Collection Metallic Jacquard Dress
Decor: Swirling Pastels
Lean into eye-catching candy colors this New Year, employing pastel purples and robin's egg blue to liven up your festivities. Paired with pretty blush and taupe neutrals, this unexpected color scheme will kick your year off right.
Dress: Sandra Mansour Aegir Embroidered Tulle Dress
Decor: Warm + Lacy Tablescape
Gather your near and dear ones close as the clock strikes midnight, and watch them linger around the table thanks to your inviting decor. A lacy table cloth pairs beautifully with an all-natural centerpiece and lots of glowing votives, via .
Dress: Adrianna Papell Cap Sleeve Lace Dress
Узнайте про нужный web-сайт , он описывает в статьях про
etalon.com.ua
.
Был найден мной популярный web-сайт с информацией про
https://baly.com.ua
.