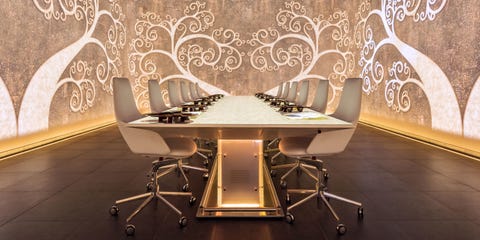 Sure, you could throw down $100 for a or a dessert tasting at Dominique Ansel's ., but why not create an Instagram post that will make your foodie friends seethe with jealousy?
From the "hot-cold egg" that draws tourists to Paris, to the 20-course tasting menu timed to video screens, the most incredible culinary experiences across the world are also, unsurprisingly, the most expensive. (Hey, if you brown bag lunch for a month or two, it all works out in the end, right?)
Scroll down to see some of the most extravagant meals across the globe – then head to to see the rest of the list.
Forget tickets to Hamilton – if you're in Europe, the most sought-after event is a seat at , which costs about $1,850 a person. Located in Ibiza's Hard Rock Hotel, each 3-hour "show" serves 12 guests a tasting menu of 15-20 courses curated by Michelin-starred chef Paco Roncero. The dining experience is set to avant-garde videos projected onto the wall and tabletop and, for what it's worth, reviews of the most expensive meal in the world have been .
We've already praised the for its chic design, but the three Michelin-starred restaurant will set you back $425 for its "Jardin-Marin" menu, consisting of three-half courses, cheese, and dessert.
Hit the jackpot in Vegas? May we humbly suggest the $425 Degustation Menu at in the MGM Grand Hotel? A meal here allows you a choice of small tasting portions from more than 15 French dishes.
's signature "" attracts tourist after tourist, and The New York Times claims its $315 vegetable tasting menu is the equivalent of "" Carnivores, the Degustation Menu – which also includes the legendary egg – will set you back $400.
has been through the ringer – earlier this year, The New York Times said the restaurant wasn't worth the – but its $325, nine course tasting menus keep foodies coming back every night.
's website boasts the restaurant is unlike any other, and it's true. The 15- course tasting menu and wine pairing changes daily to ensure chefs use products in season. The intimate space only seats 18 guests, and the $306 reservation includes tip – so you won't be entirely broke after your meal.