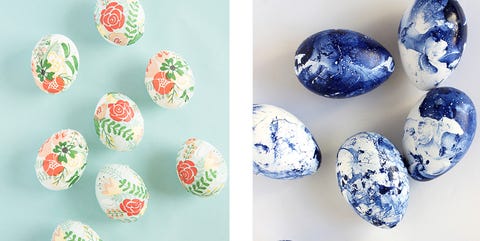 When Easter rolls around, dyeing eggs is pretty much a holiday requirement. This year, skip the stickers and stencils and get creative with a design that is as fun to make as it is an elegant accent.
For the chicest egg hunt ever, up your egg dyeing game with these gorgeous DIY designs that will turn your basket into a work of art.

1
Indigo Marbled Easter Eggs
Every egg is one-of-a-kind with these gorgeous celestial marble Easter eggs. Plus, they're dyed with nail polish meaning that the color options are pretty much endless.
Get the tutorial via .
2
Spring Foliage Easter Eggs
If you're wondering how this leafy egg design is achieved with such detail, it's because it's made with real plants. The elegant DIY design is rustic and elegant—and half of the supplies can be sourced straight from your backyard.
Get the tutorial via .
Let's face it, candy is a major part of Easter. So why not celebrate the holiday by combining two of its most important icons? These eggs, painted with candy sprinkles, hit the sweet spot.
Get the tutorial via .

4
Tropical Leaf Easter Eggs
Dye this year's eggs a cheerful turquoise hue, then plaster them with itty-bitty monstera leaves for a totally resort-ready Easter look that nails the greenery trend.
Get the tutorial via .
5
Abstract Tissue Paper Easter Eggs
Skip the dye and get crafty with these fun and easy abstract Easter eggs. Made from tissue paper and mod podge, the design possibilities are endless with this technique.
Get the tutorial via .
6
Gold Animal Easter Eggs
You don't have to dye your eggs to jazz them up! Instead, try bedecking them with gold-painted spring creatures, like ladybugs, butterflies, and bunny rabbits.
Get the tutorial via .
7
Naturally Dyed Easter Eggs
We're all about these all-natural Easter eggs that skip the fussy store-bought dyes in favor of chromatic plants. We've all seen what bright magenta beet juice can do to a cutting board—time to try it on your next batch of eggs.
Get the tutorial via .
8
Mod Podge Floral Easter Eggs
Vintage-inspired florals give these mod podge Easter eggs a romantic boho flair, and are sure to enliven any festive tablescape.
Get the tutorial via .
9
Color Contrast Easter Eggs
Create dramatic two-tone eggs with swirling, marbleized patterns in deep, jewel tones. The key is an art classroom staple, rubber cement.
Get the tutorial via .
If you're a fashionista, this jean easter egg design is for you. It's a creative—and easy—way to make use of an old pair of jeans.
Get the tutorial via .
11
Washi Tape Easter Eggs
Washi tape is officially the queen of crafting materials. Use it on eggs to create adorable patterns with the colorful tape, or wrap an egg in tape before dyeing to create peel-off designs underneath.
Get the tutorial via .
Give your Easter eggs an ordinary dye job, then use gold leaf to create a antique-looking layer of gilt on top. Gorgeous!
Get the tutorial via .
13
Floral Print Easter Eggs
Easter is all about pastels and new flowers, and your egg collection is the perfect place to showcase the reason for the season. Decorate your eggs with tiny hand-painted flowers tailor-made for spring.
Get the tutorial via .

14
Feather Decoupage Easter Eggs
These delicate eggs skip the dye in favor of pretty, patterned paper decoupage, amply bedecked with tiny feathers—perfect for celebrating the season's flocks of returning birds.
Get the tutorial via .
15
Marbled And Bronzed Easter Eggs
These chic, minimal Easter eggs combine lovely stone-look marbling with bronze patina. The effect is achieved using grape juice (!), among other ingredients.
Get the tutorial via .
16
Chalkboard Easter Eggs
Add a layer of intrigue to your Easter egg hunt by painting your eggs with matte chalkboard paint, and leaving messages in chalk for the hunters to discover later.
Get the tutorial via .

Get your eggs tatted up with a wide array of temporary press-on tattoos. We love this 'Sailor Jerry' motif, or try metallic flash tattoos for a little music-festival splendor.
Get the tutorial via .
Ombre is a design classic for a reason; it always looks good. Learn how to manage your dye as you go to create a gradient ribbon of colorful eggs.
Get the tutorial via .
Dress your eggs in their Easter best with this cute tutorial that turns them into itty-bitty chicks, complete with fluffy crowns of down and 'grass' nests.
Get the tutorial via .
20
Animal Print Easter Eggs
If you yearn for the eye-popping animal prints of your Lisa Frank trapper-keeper, this is the tutorial for you. Create eggs that pay homage to the queen of notebooks, pencil cases, and recess doodling.
Get the tutorial via .