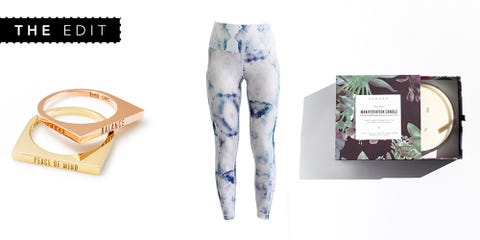 "New year, new you" may have very well been your intention during the champagne haze of December 31st, but if you're finding it harder to stay the course as the new year gets underway, remember novelist Mary Wollstonecraft Shelley's wise words, "The beginning is always today." Then, shop these 7 essentials to help ease things along.
Sakara Life Manifestation Candle, $95
Derived from 13 rare and potent botanicals, and with a fragrance that's at once citrusy and floral, Sakara Life's Manifestation Candle is "crafted to cleanse your space, help you vibrate at your highest possible energy and enable you to bring your deepest desires into vibrant life." In other words, it's the antidote to bad vibes.
The Astrotwins' 2018 Planetary, $50
There are two kinds of people in this world: those who speak their future into existence, and those who plot their next major move on paper, with the stars by their side. Astrology gurus Ophira and Tali Edut, aka The Astrotwins, offer a guide map to getting it all done, for those in the latter camp.
HUM Nutrition Daily Cleanse, $25
You could binge on leafy greens for two weeks or try this beauty editor favorite, packed with an herb-nutrient blend of algae, vitamins, minerals, and protein. Your call.
Brooklinen Move-In Bundle, $619
New days begin with restful nights — on a fresh set of long-staple cotton sheets, no doubt.
Bungalow Leggings, $145
If this is your year to hit the gym and redecorate your home, textile and wallpaper brand Eskayel is here to help you do so harmoniously with an O2 Aspen collab that renders popular wallpaper designs on a line of stylish leggings and bras.
Posey Rings, $450 each
Look no further than your ring finger for a daily reminder of what 2018 is all about.
White Dove by Benjamin Moore, from $40
On a wall, a dresser, or a set of kitchen cabinets, there are few things more satisfying than watching a fresh coat a paint roll over the bad decisions of renovations past. This white, with just the right amount of warmth, is a clean complement to minimalist and maximalist aesthetics alike.