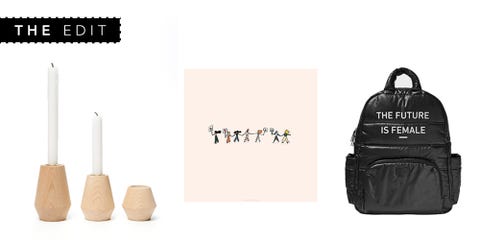 There isn't a high enough price tag or enough days in the year to truly reconcile the struggles women have endured over the years, but International Women's Day is a worthy start. We're celebrating the patriarch-crushing women in our life (self included) with these five charitable gifts.
Vegan accessory and outerwear line 7 AM's is actually a stylish front for a diaper bag. And the company's commitment to supporting strong women everywhere extends beyond International Women's Day with 10% of the backpack sales going to fund women's initiatives across the world.
From $78
2
Maple Taper Candle Holder
Shine a light on your next dinner party and on the young women making a way in the tech industry, all at the same time. American Heirloom, the makers of handcrafted wooden home accessories, like this solid maple candle holder, is donating 10% of proceeds from International Women's Day sales to .
Large, $36
With profits going to fund educational training programs for the women who handcraft their products, it's always a good time to shore up some stylish home storage from Indego Africa.
$300
This comes in sterling silver, 14k gold or 14k gold with diamond letters. And, most importantly, 20% of all proceeds will be donated to Planned Parenthood.
$130
5
"Strength Together" Print + Frame
As one of the few Fortune 1000 companies with both a female CEO & CFO, Pottery Barn is offering a limited edition print created in partnership with , an organization of female illustrators, to benefit the . 20% of proceeds will be donated to provide resources and stability to low income women.
11x13, $59 | 18x18, $99
In honor of International Women's Day, West Elm has partnered with to design this limited edition "Innovator" tote, and for each tote sold, they're donating $5 to , which supports girls around the world.

$38
7
Of a Kind, Round 5 Cashmere Sweater
Buttery soft, with a purpose you can also feel good about, 40% of the proceeds from the sale of these 100% cashmere sweaters go to Her Justice, an organization that stands with women living in poverty in NYC – many of whom are survivors of intimate partner violence – by recruiting and mentoring volunteer lawyers to provide them with free legal help.

$360