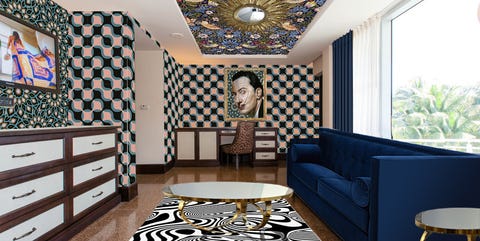 At a fair that offers billions of dollars of art for sale, where do the high-roller collectors go to relax or recharge after purchasing seven-figure paintings? Miami's most lavish suites—the rarified, and rarely scene, world of hotels that are bigger than most people's homes—and certainly NYC apartments—and whose nightly rates often start in the five-figures. Here's a peak inside of where the art world goes to rest.
1
The Faena Suite at the Faena Hotel Miami Beach
The five-bedroom and six-and-half bedroom Faena Suite celebrates the golden age of Miami glamour, complete with panoramic ocean views, floor to ceiling windows, and furnished balconies. Want to have 50 of your closest friends over to toast all the new paintings you'll be hanging on your walls? There are two levels of entertaining space. And of course nothing here is mass market—the furnishings are all custom by Frank Pollaro. And for those who want to live slightly less large, there are also mere one, two, and three bedroom suites.
2
The Marybelle Penthouse Suite at the Four Seasons Hotel at the Surf Club
Although not technically in Miami, the Four Seasons Hotel at the Surf Club, is a 20-minute drive to Miami Beach, and is fast becoming one of the hottest hotels in the area. Their Marybelle Penthouse Suite is 7,200 square feet, has its own rooftop pool, and a recently launched culinary experiences. Pick from any (or do them all): breakfast from a private chef, a Chef's table dinner at Le Sirenuse Miami, the Positano imported restaurant, a picnic on the beach, and a master cooking class, such as pasta making. Or don't go anywhere and enjoy the terrace of your dreams and all the meticulously Joseph Dirand-designed living spaces.
3
Elisabetta Fantone Suite at the National Hotel
For those seeking to really get in the vibe, the National Hotel has two Artist Signature Cabana Suites. These rooms are designed by artists and have artwork with famous TV, art and movie icons, such as Marilyn Monroe, Audrey Hepburn, Salvador Dali, James Dean, David Bowie, Andy Warhol, Iggy Pop, Debbie Harry, Lou Reed, and others. For her suite, International pop artist Elisabette Fatone included a mural of Salvador Dali. French designer and photographer Maurice Renoma's suite is basically a private collection of his own work (with 13 pieces hanging), along with a number of other provocative pieces.
4
The Presidential Suite at the Four Seasons Miami
In the now quite hip downtown area of Brickell is The Four Seasons Miami and their 29th floor almost 3,000 square foot Presidential suite with views over the city and Biscayne Bay. The sprawling set-up can be configured into three bedrooms, has local Miami art, a dining room for eight, and access to the hotel's two-acre rooftop pool t. Also in Brickell is the SLS Lux's Presidential Suite. The boutique hotel's over 1,700 square foot suite has a private wraparound balcony, a soaking tub, Ciel spa amenities, and VIP Services including private elevators, a wine cellar and cigar room, limousine services to SLS South Beach, and Katsuya, a Phillipe Starck designed restaurant that is master sushi Chef Katsuya's take on modern Japanese food.