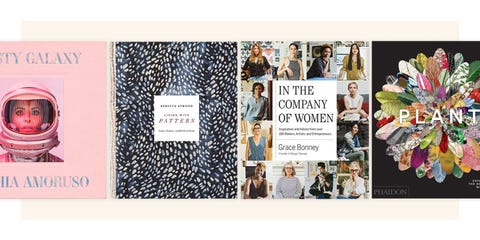 Straight from the pens of bloggers, celebs, and home design darlings, we've rounded up 17 beautiful coffee table books that are both brand-new and enduring favorites.
Plant: Exploring the Botanical World
$42
"Plant" is a lush, 352-page tome, packed from cover to cover with a diverse range of botanical art. Spanning centuries of illustration, etchings, paintings, and photography, it showcases the enduring beauty of the natural world throughout time, elegantly demonstrating how it still enchants us today.
$22
, unite! Sophia Amoruso's followup to the best-selling "#GIRLBOSS" is less of a primer in career domination, and more of a collection of her aesthetic influences and devil-may-care personal philosophies. This blush-colored, linen-bound book also highlights the women in Amoruso's inner circle who are putting the girl-boss ethos to work in their own lives and industries.
Living with Pattern: Color, Texture, and Print at Home
$22
Mixing patterns is an art form, and one that many of us aren't terribly well-versed in. In this book, textile designer Rebecca Atwood helps readers take the apprehension out of layering pattern into their homes, and does it in a way that highlights the best assets of each space. She knows that decorating can't be prescriptive, which is why she puts a lot of emphasis on the reader discovering their own personal tastes before diving into a decor do-over. The book reads like a beautifully photographed personal blog, and we particularly love the section on creating personal nooks within a room — it's a homebody's dream.
In the Company of Women: Inspiration and Advice From over 100 Makers, Artists, and Entrepreneurs
$21
"In The Company of Women" is a pep talk in the form of a book. The blogger profiles a diverse range of businesswomen, and takes an exploratory look into their routines, workspaces, and the practical wisdom they've gleaned from their work. If you've ever wanted to pick Tavi Gevinson's brain about career advice, or take a peek inside of style icon Linda Rodin's office, this book is for you.
The Selby Is in Your Place
$29
If eclectic clutter and eccentric personal style is your jam, "The Selby Is in Your Place" needs a permanent spot on your coffee table. Born out of his eponymous blog, photographer Todd Selby interviews and takes pictures of the homes of various offbeat personalities, from Jonathan Adler to Erin Wasson to Karl Lagerfeld. The book is like a giant game of "I Spy" — the more you flip through it, the more witty and minute details you'll start to notice.
$12
A quick read that you'll want to flip through over and over again, "The Lego Architect" introduces readers to several modern building styles, using gorgeously shot images from around the world, and translating them into miniature Lego structures. This book is a wonderful way to introduce kids to the world of architecture, and even offers instructions on recreating some of these mini-masterpieces at home.
Kate Spade New York: All in Good Taste
$18
No one does accessories quite like Kate Spade, and this posh, pink primer for the modern hostess makes the perfect coffee table topper. Written in the prim, yet cheeky prose that's now synonymous with the fashion brand, all of the etiquette tips and food prep tricks you need for hosting your next soirée are all neatly explained (and diagramed!) here.
Star Trek: Costumes: Five Decades of Fashion from the Final Frontier
$40
A coffee table must for any devoted Trekkie, this retrospective of "Star Trek" costume designs over the years features an in-depth look at each featured costume, with concept art and episode stills that illustrate the lasting cultural value of each look.
$27
Don't throw away your shot at getting your hands on this exceptional deckle-page hardcover, which goes into great detail about the conception and execution of one of Broadway's most revolutionary shows. Containing humorous footnotes, insider anecdotes, and stunning full-color photography, the "Hamiltome" is one for both theater and history buffs to flip through, starry-eyed, over and over again.
Alexander McQueen: Savage Beauty
$29
Five years following its initial release in 2011, "Alexander McQueen: Savage Beauty" is still a beloved, best-selling coffee table must-have for the fashion-and-art-obsessed. This haunting tome displays his standout designs in full color, examines his artistic process and career evolution, and is an overall moving tribute to one of fashion's master creators.
$12
See the City of Lights, decked out in its most radiant hues. This inspiring, photo-centric book showcases in sumptuous detail those enchanting little pops of color that one can glimpse on an everyday Parisian stroll. It's about finding joyfulness and bliss in an object as average and unassuming as a bistro chair or street sign.
The Dogist: Photographic Encounters With 1,000 Dogs
$17
Whether as a coffee table mainstay, or as a gift to a fellow pup lover, "The Dogist" is a gorgeous and heartwarming tribute to man's best friend. Each eye-level portrait displays such depth of character and poignancy on each page, that you may never look at street-style photography the same again.
Face Paint: The Story of Makeup
$21
Some history lessons can be a bit drab — but this one's positively dazzling. Chronicling the beginnings of makeup use in the ancient world and charting its significance as a sociopolitical barometer of the times through history, this glossy book keeps the tone fun and always informative, stocked to the brim with fashion photography, art, and advertisements to illustrate the point.
$24
Turns out, the funny lady and queen of daytime TV is totally serious about home decor. This book presents high-quality photographs of her expansive homes, both past and present, peppered throughout with decorating tips and personal anecdotes about what each place has meant to her.
Humans of New York: Stories
$19
It takes a lot to stand out in the city that never sleeps. The "Humans of New York" that Brandon Stanton began in 2010 is now a global phenomenon, and this is the third book in his collection. It uses the same man-on-the-street interviewing concept as his previous books, this time featuring longer stories from a new group of subjects. An extremely poignant page-turner, to say the least.
National Geographic Rarely Seen: Photographs of the Extraordinary
$27
Take a glimpse at something truly extraordinary in this vibrant new book from National Geographic. A wonderful ice-breaker for any gathering or party, this hardcover features stunning photography of some of Earth's most visually-striking landscapes and rare natural phenomena.
The Year of Cozy: 125 Recipes, Crafts, and Other Homemade Adventures
$17
What a title! No worries about finding deceptively difficult DIYs here — this warm and friendly hardcover book is all about crafting a cozy, enjoyable existence for every month in the year.