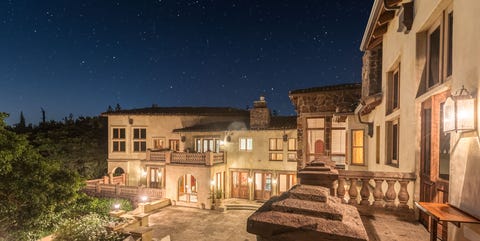 What happens when the ultra-rich aren't ready to commit to a property or location? They rent! These deluxe homes around the country showcase exactly what it's like to sign a lease — when your budget exceeds $100,000 a month.
Embrace the luxe apres-ski experience in this Aspen chalet, with direct access to the slopes. It comes complete with 5 beds, a home theater, and shuffle board. The home also features a hot tub and gym.
$150,000 / month
Represented by Brittanie Rockhill / Douglas Elliman
This 7-bedroom Miami compound was designed by the architect Ralph Choeff, and is full of gorgeous designer details and top-of-the-line amenities, including a chef's kitchen, movie theater, and even a koi pond.
$180,000 / month

Represented by Julian Johnston / Calibre International Realty

In a city renowned for pricey real estate, this park-side Manhattan penthouse is a cut above. The luxurious 4-bed is located in the Mandarin Oriental hotel. That means that a would-be renter would not only have access to their own private terrace and Central Park vista, they would also enjoy the hotel's dining and maid services, valet parking, and lap pool.
$125,000 / month
Represented by Brenda Powers / Sotheby's International Realty
Situated on the exclusive Carolwood Drive in the LA enclave of Holmby Hills, this Tuscan-style villa is as dramatic as its vertiginous hillside surroundings. There are 9 bedrooms in the 12,000 square foot space, a pool and spa, hair salon, and recording studio.
$195,000 / month
Represented by Manuela Villa / Hilton & Hyland
An expansive country-style home in Dallas proves that the saying is true, everything really is bigger in Texas. The home, more than 10,000 square feet, boasts 5 massive bedrooms, a home theater, a library, a game room, and a sauna.
$26,000 / month
Represented by Beau Beasley / Coldwell Banker Residential
This spectacular 5 bedroom estate (with 7.5 baths) is situated in one of the toniest summer communities in the greater New York City area. For many thousands per month, the renter can take advantage of a beautiful home, vast grounds, and a 50-foot Gunite pool.
$125,000 / month
Represented by Michael Schultz / The Corcoran Group