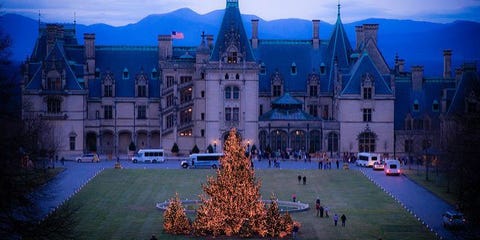 Since Christmas Eve 1895, George Vanderbilt's has been a classic locale for . Located in Asheville, North Carolina, features America's largest home, meticulously decorated with dozens of decorated fir trees, thousands of lavish holiday decorations, and endless miles of brightly lit evergreen garlands. Here's proof that the knows how to do Christmas right.
1
The annual tree raising ceremony.
To match the massive size of the mansion, a 35-foot Fraser fir is erected by hand. This year, 2,400 people gathered at the to watch as the crews heaved the toppling tree upright.
2
The candlelit Christmas evenings.
Magnificent rooms are lit by candlelight, casting just the right amount of shadow against the elegant mid-century antiques and tapestries.
The estate's famous conservatory is appropriately decorated this season with lush and luxurious flora, including poinsettias and white orchids.
Nothing says Christmas quite like a wine tasting, right?
7
The festive front lawn.
The abundance of glimmering make the scene a perfect spot to take a memorable photo.
9
The Fraser fir all lit up.
Now this is a Christmas tree.
10
The jaw-dropping entry hall.
We can all take a lesson in decorating with garlands from this magnificent room.
11
The roaring fireplaces.
The Biltmore's library is the perfect place to cozy up with a book.