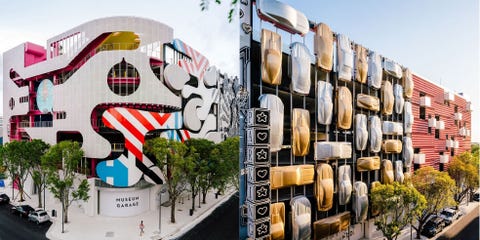 Courtesy Miami Design District
The first week of December draws tout le monde in art and design to Miami, where there are a dizzying amount of exhibitions, fairs, and installations as , , and converge. It is impossible to see it all, but T&C has an eye on a few can't miss events...
One of the original stalwarts of will present over 200 galleries this year. Among them, Lévy Gorvy will display some of New York pop artist Keith Haring's most iconic works, replete with the original wallpaper from Haring's Pop Shop. will pay tribute to artist Robert Indiana, who passed away earlier this year, with a survey of American artists. December 6–9, Miami Beach Convention Center.

Ferngully by the Hass Brothers at The Bass
Los Angeles–based Nikolai and Simon Haas have skyrocketed in popularity with their colorful anthropomorphic sculptures and furnishings. was inspired by the 1990s film of the same name and presents a playful series of "beasts," sculptures, and vases. Opening December 5, 2100 Collins Avenue.
Approaching its 30th anniversary next year, are one of the original anchors of Miami Art Week. While the offerings tend to lean toward greatest hits in the broad swath of art collecting, it is worth seeing notable works by the likes of Marc Chagall, Frank Stella, Willem de Kooning, Alexander Calder, and Yayoi Kusama, among many others. December 4–9, One Miami Herald Plaza.
Alan Faena, founder of the aforementioned Faena Hotel, steps into the ring with the first-ever , curated by Zoe Lukov. Artists such as Wu Tsang, Isabel Lewis, and Derrick Adams were brought in to create works centered on the theme of This Is Not America, which is named for the seminal work by Alfredo Jaar and meant to represent the diversity and changing face of Miami. December 3–9, the Faena Design District.
Occurring alongside Art Basel, presents a vibrant programming of furniture, lighting, and home décor. This year promises to be one of the most diverse yet, with an new emphasis on the Latin American and Asian markets. Design aficionados are eagerly anticipating the , which tapped curators, tastemakers, and gallerists to compile "cabinets of curiosity." This includes The Color and the Shape by Philippe Malouin with Calico Wallpaper, The Office by breakout artist Harry Nuriev (who made a splash earlier this year at Collective in New York), Entrevero by Cristian Mohaded, and Breaking the Mold: Contemporary Korean Ceramics by J. Lohmann Gallery, among others. Design Miami/ will also be presenting the Visionary Award to Pedro Reyes and Carla Fernández, who will be creating a site-specific sculpture for the entryway. December 5–9, Design Miami/.
Prada is debuting Prada Mode, a club made in collaboration with the artist Theaster Gates, who created a site-specific installation. Held at , Prada Mode will host events with music, food, and entertainment. Other coveted pop-up clubs are being hosted by the Blond and Rec Room at the and The Surf Lodge at the . From December 4–6 at 2727 Indian Creek Drive, Miami Beach.
Louis Vuitton, Objets Nomades
Since , the design and fashion communities have eagerly awaited each release. Louis Vuitton will be presenting new pieces alongside its limited edition series at Design Miami/ and it is sure to create a buzz. December 4–9, Louis Vuitton Miami Design District.
Take it easy over at the lounge at UNTITLED, which offers a preview at the upcoming New Orleans lifestyle hotel , designed by Atelier Ace and Studio Shamshiri (the same folks behind Ace Hotel and Sister City). Events—rife with flowing cocktails and jazz bands—will occur throughout the week. December 4–9, Ocean Drive and 12th Street.
Judy Chicago: A Reckoning at ICA Miami
opens a retrospective on feminist artist Judy Chicago, highlighting her contributions to modernism. Chicago, whose career spans over 50 years, creates powerful works that examine gendered perspectives, sexuality, and society. Max Mara, one of the exhibition's sponsors, is releasing a limited-edition shirt alongside the opening. December 4–April 21, .
What Goes Around Comes Around x Bentley at Versace Mansion
Along with Bentley and , T&C contributing editor Erica Wertheim Zohar is hosting a party at the Versace Mansion with a retrospective of Versace fashion from the 1990s and two bespoke Bentleys. December 8, Versace Mansion.
Bulgari x Art Production Fund
and the partnered to present a sculpture by Raúl De Nieves at the Faena Hotel in Miami Beach. The sculpture, inspired by Bulgari's Italian heritage, incorporate Roman myth and ancient traditions in the theme of metamorphosis. December 5–10, .