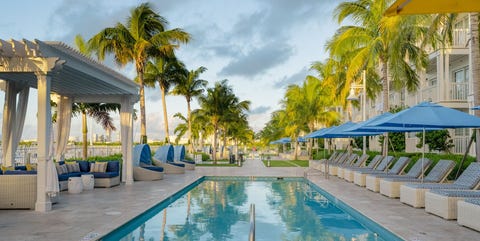 In the mood for a getaway but not quite sure where to go? We've been there. Whether you're seeking sun, shopping or something more adventurous, this list of wanderlust-worthy vacation ideas will help inspire your next trip.
Washington School House Hotel
Avid skiers should consider a trip to Park City, which is at its most beautiful this time of year. Just 32 miles southeast of Salt Lake City, the picturesque mountain town has everything you could ever want from a ski-centric weekend getaway: cozy bars and restaurants along Main Street, a range of wintery activities (including dog sledding, snowmobiling, and more), a handful of top-notch hotels. For a quaint boutique vibe with a rich history, book a room at Washington School House, located walking distance from Main Street—but bear in mind that the Sundance Film Festival kicks off on January 24 and hotels tend to fill up fast.
One & Only Cape Town
Summer in Cape Town lasts from November until February, with January being a decidedly optimal time to visit. You won't be met with oppressive heat—expect temperatures in the 70s and low 80s—and you'll have 14 hours of daylight at your disposal. It's the kind of city that appeals to just about every type traveler, whether you're a foodie, an oenophile, a surfer, or a beach lover. Among the must-do's in Cape Town? A hike on Table Mountain, a visit to Boulders Beach (which is populated with African penguins), a photo opp at the Cape of Good Hope, a maze-like drive along Champman's Peak, and a day spent wine-tasting in nearby Franschhoek.
Palazzo Margherita
"Basilicata is one of a select few locations in the world where you can explore an area steeped in history dating all the way back to the Paleolithic age," says Tamara Lohan, the founder and CTO of . The southern Italian region—which is bordered by Puglia and Calabria—is an idyllic escape for those who prefer to avoid the crowds. "Spend a few days at the which is as grand as a Cinecittà film set, perhaps the reason why many A-listers have flocked to the sleepy 12th-century town."
Bulgari Resort & Residences
Few places around the world take shopping as seriously as Dubai, so it should come as no surprise that the emirate plays host to a monthlong festival entirely dedicated to retail therapy. In January, you'll find high-end designer sales, in-store promotions, and festivities throughout the city—a tradition that is now in its 24th year. And if you're not into shopping, you can go skiing inside the , because, well, this is Dubai we're talking about. Book a room at the just-opened Bulgari Resort & Residences, and while you're in town, reserve a table by the window at Armani Ristorante. It's located inside the Burj Khalifa, so you'll get the same incredible views as the skyscraper's observation deck, but won't need to wait on line.
Carmelo Resort and Spa
If you're on the hunt for a warm-weather January trip and craving a bit of culture, look no further than Colonia del Sacramento in Uruguay. Originally founded in the 17th Century by the Portuguese, it is one of Uruguay's oldest and most historic cities, and was named a UNESCO World Heritage Site just 22 years ago. In the Barrio Historic, spend the day wandering from cafe to cafe along the cobblestone streets, before enjoying a leisurely lunch in the garden of Parrillada El Porton. The always buzzing local spot features classic Uruguayan meat cooked on an open-flame while guests look on salivating.
Four Seasons Hualalai
With daily highs around 83 degrees and lows around 79, January is one of the best months for a trip to the Big Island—particularly now that the area's is officially welcoming guests once again. Pay a visit, and you'll have the chance to marvel at Mother Nature's most magnificent specimens: two active volcanos right in the heart of the park. Jetsetters in search of luxury accommodations should look no further than the , which is considered among the top properties in the area.
Oceans Edge Resort & Marina
Following the devastation of Hurricane Irma, the quirky Floridian island chain is officially back in business—and now might just be the best time to go: during the winter season, major cities around the US (including New York, Chicago, Dallas, Atlanta, and others) offer flights directly into Key West, so you won't need to worry about road-tripping from Miami. If you prefer to be slightly outside of the hustle and bustle, but still close to downtown, book a room at Oceans Edge on Stock Island. The newly opened luxury resort and marina is surrounded by hip restaurants, art galleries, and all the charm that the Keys are known for.
The Cotton House
There's a reason why Tommy Hilfiger, Shania Twain, and Mick Jagger all own homes on this intimate private island. It's exclusive, yet decidedly unpretentious—despite the fact that royals have been known to holiday here. Princess Margaret owned a villa on the island (it's even available for rent) and Prince William has visited several times with Kate Middleton. Plan your trip for the last week of the month and head to the annual Mustique Blues Festival, held at the island's iconic Basil's Bar. Palatial villas are available for rent by the week, or if you'd prefer a more traditional hotel experience, there's The Cotton House, Mustique's only spectacular five-star resort.

Mayleko Lodge
History buffs and culture lovers should consider heading to Ethiopia in January. Mid-month, the ancient village of Gondar celebrates Timkat, a religious festival that brings together hundreds of locals parading through the streets with intricate, colorful umbrellas in hand. You'll want to enlist the help of an expert, like luxury travel firm Red Savannah. The company including Gondar and other culturally rich destinations in Northern Ethiopia.
Keemala
January falls during Thailand's dry season, making it a particularly idyllic time to visit the country, which is known as the "Land of Smiles." In Phuket, you'll find some of the most breathtaking beaches in the world, unmatched hospitality, and mouth-wateringly delicious Thai cuisine. Plus, the luxury hotel offerings are top-notch. Among them: Rosewood's just-opened beachfront resort on Emerald Bay, the uber-chic Sri Panwa, Aman's standout property Amanpuri, and Instagram's favorite tree house hotel, Keemala. Book a table well in advance at , the fun, insidery restaurant celebrities and Thai royalty adore.

Этот важный портал на тематику
http://rbt.com.ua
.
В интеренете нашел важный веб портал про направление
комплексный ремонт квартир
.