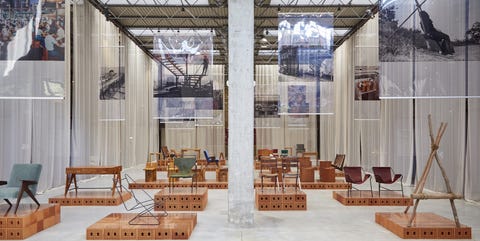 They say that the real Milan exists behind closed doors. It's a millennia-old city playing modern, full of brutalist buildings, gray and industrial. Milan's private spaces have always told a different story, from the sprawling parklike greens at the Versace palazzo on Via Gesù used to stage the house's runway shows to the swimming pool at the front steps of the Villa Necchi (immortalized in Luca Guadagnino's film I Am Love); the Bulgari Hotel's 40,000 square feet of hidden botanical gardens and the secret flower beds behind the Brera Academy. But much has changed in recent years, and the city, home to Italy's most famous fashion and design brands (think Giorgio Armani and B&B Italia), has undergone a renaissance of both high culture (witness the OMA-designed Fondazione Prada and the Bosco Verticale, an apartment building with a vertical garden), and shopping and culinary scenes. Here, ED presents a list of where to eat, sleep, shop, and drink.
Designed by its decorator owner, Chichi Meroni, a sixth-generation Milanese, this high-style emporium and cult store just steps from the Duomo is at once a café, a seafood restaurant, a gallery, a bookshop, and a clothing shop.
Architect Massimiliano Locatelli transformed this former silverware factory into a theatrical exhibition space for gallery owner Nina Yashar's extensive collection of gorgeous modern and contemporary design.
Built in the 1930s, this Art Deco house museum is the former residence of an art-collecting couple, Pirelli engineer Antonio Boschi and his wife, ceramist Marieda Di Stefano. The 300 works on view include pieces by Lucio Fontana and Mario Sironi.
Tour this building of rare beauty and visit Leonardo da Vinci's adjacent garden, site of the artist's own vineyard, which has been restored to commemorate the 500th anniversary of his death.
5
Where to Drink and Dine
The restaurant is a collaboration between Milan's doyenne of design, Rossana Orlandi, and the team behind the multi-starred restaurant Il Luogo di Aimo e Nadia. Orlandi partnered with fashion brand Etro on the interiors.
6
Where to Drink and Dine
A clubby London-style cocktail bar with cozy interiors by Venezuelan designer Juan Carlos Viso. Regulars can buy a bottle, choosing from a selection of 600 labels, and store it safely in a private locker.
The decor of this 43-room property was inspired by the geometric aesthetic of the late, iconic Italian architect Piero Portaluppi. The top-floor rooms have private terraces overlooking the Duomo.
This well-priced hotel next to the Piazza del Duomo does not lack in style, thanks to interiors by the Spanish designer Patricia Urquiola. She is also the art director of Cassina, where many of the hotel's beautiful furnishings were sourced.