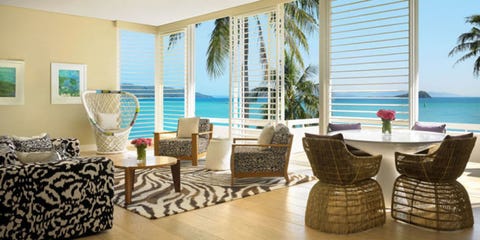 What better way to curate your next vacation than with the help of fashion's biggest designers? Here, 10 hotel suites around the world designed by the figures who rule the fashion world—for a guaranteed chic getaway.
The Dior Suite, St. Regis New York
Parisian elegance is transported to New York with Dior's regal hotel suite at the St. Regis. Featuring incredible views of Central Park and Fifth Avenue, the suite's muted color palette takes inspiration from Dior's ateliers in Paris. The 1,700 square foot room includes an 8 person dining room, marble bathroom, king bedroom suite, spacious living room area and 24 hour butler service because, of course.
The Dior Suite at the St. Regis New York, for more information and bookings visit .
Diane von Furstenberg's Claridge's Suite, London
DVF's love of patterns—and her iconic chain print—come to life in The Grand Piano Suite at at Claridge's London. The two bedroom, 1915 square foot suite boasts a private bar, marble fireplaces, a grand piano and wall art of photographs taken by Diane herself on her worldly travels. Occupants also have access to a 24 hour personal butler service.
The Grand Piano Suite at Claridge's London, for more information and bookings, .
Located in Queensland, Australia, Palazzo Versace marked the world's first-ever fashion branded hotel. An homage to the late Gianni Versace, the ornate and luxurious hotel is decorated richly to reflect that of the iconic fashion house. Special features include a Gianni Versace boutique, spa, fitness center, deluxe suites, luxury condominiums, the private Palazzo Versace Marina and Australia's only Water Salon—a pool cabana oasis with a "Cabana Couture Collection" offering special hotel packages for lounging in luxury by the pool.
Palazzo Versace, book now at .
Oscar de la Renta's Tortuga Bay Hotel, Punta Cana
Oscar de la Renta designed the entire Tortuga Bay Hotel in his native Dominican Republic. Located on a private beach, the late designer's hotel is comprised of 13 villas, a golf course, a Six Senses Spa, tennis center and a 1,500-acre Ecological Reserve. The most luxurious villa includes four bedrooms leading out to the beach where a personal villa manager tends to all of the guests' needs.
Tortuga Bay Hotel, for more information and bookings, .
Inspired by the 19th-century artistic and cultural atmosphere of its Left Bank location, Christian Lacroix's boutique hotel boasts 34 ornately designed rooms. The hotel includes a terrace area and luxuriously decorated breakfast room designed by Lacroix himself. An added bonus? It's conveniently located steps away from some of Paris's best museums, including the Musée d'Orsay.
Hotel Le Bellechasse, .
Located in the tallest tower in the world, the Armani Hotel Dubai brings the spirit of the fashion empire to its decor, dining and shopping experiences—with every last detail designed by Giorgio Armani himself. From the 160 guest rooms that feature walls made from handmade Italian leather to a luxe spa experience and restaurants specializing in


Mediterranean, Japanese and Indian cuisines. The hotel also offers a second location in Milan, Italy.
Armani Hotel Dubai, for more information and bookings, .
The Pineapple House at Jamaica's Round Hill resort comprises of 36 oceanfront guest rooms, all designed under the creative direction of Ralph Lauren. Decorated with furniture from the designer's Home Collection, the rooms feature cool white color palettes, canopy beds and louvered windows opening up to the ocean.
Round Hill Hotel and Villas, .
Vera Wang's Halekulani Suite, Hawaii
The one-bedroom Vera Wang-designed Halekulani Suite occupies the second floor of Honolulu's Halekulani Hotel. The suite boasts 2,135 square feet of indoor space and 640 square feet of outdoor space on a gorgeous oceanfront deck. The Asian-influenced design of the room also comes with a master bath, dining room, personal butler and airport limousine services.
The Halekulani Hotel, for more information and bookings, .
Diane von Furstenberg's One & Only Hayman Island Suite, Australia
After vacationing in The Great Barrier Reef, Diane von Furstenberg fell so much in love with Australia's One & Only Hayman Island Resort that she decided to open her own suite within the hotel. DVF's two-bedroom penthouse suite includes a seaside balcony, living room, two bathrooms and a butler service— DVF's signature style is infused into the suite's decor.
One & Only Hayman Island Resort, for more information and bookings, .
Был найден мной интересный портал про направление
Контент на немецком
.