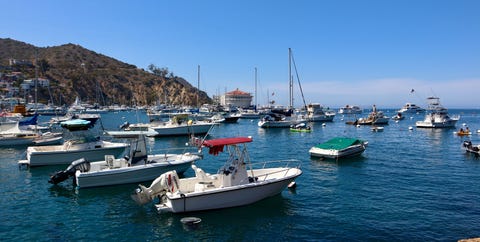 If a trip abroad is your only idea of a real vacation, it's time to rethink your view. Why, you ask? Because there are a slew of gorgeous islands right here in the U.S. that are worth exploring.
Whether you love nothing more than relaxing on the beach or seek an adventure-packed schedule of outdoor activities, there's a U.S. island for you. See below for a look at some of the best American islands to visit. Happy booking!
If you live for delectable seafood and relaxing beaches, Nantucket is for you. Perfect for a weekend getaway, the small island is located just 30 miles south of Cape Cod. For a first-time visit, it's worth exploring the island's historic lighthouses by bike, taking to the cobblestone streets in the Downtown District for its charming cafes and shops, and swinging by the Nantucket Whaling Museum. We recommend staying at the iconic Wauwinet Hotel, which just underwent a multi-million dollar renovation.

Amelia Island is a go-to for travelers looking for gorgeous beaches and quality golf time. And let's not forget about the island's seafood and the historic Fernandina Beach that's chock-full of restaurants and shops. And if you're a design buff, leave time on your agenda to explore the Southern Victorian architecture.

Located near Cape Cod, Martha's Vineyard has a rich history and attracts thousands of visitors in the summer (the Obamas even owned a vacation home there). Along with its arts scene, visitors love the island's beaches, including South Beach, which is appropriate for all ages, as well as Squibnocket Beach that's popular among the surfer set.
When it comes to beauty, it doesn't get any better than Maui. At 727 square miles, it's Hawaii's second largest island. Maui is full of gorgeous beaches (with both black and red sand) that are fit for swimming and snorkeling. Be sure to explore the beautiful waterfalls in Hana, visit one of its five-star spas known to attract celebrities, or take in the breathtaking views from the largest dormant volcano in the world, Haleaka.

If you live for a Mediterranean-style getaway, look no further than Catalina Island. Located off the southern coast of California, the island is the complete opposite of Los Angeles' bustling scene. Whether you choose to explore the island in a glass-bottom boat or by bike, you're guaranteed to have a good time. Don't miss the opportunity to swing by its main town, Avalon, a seaport village.


6
St. John, U.S. Virgin Islands
Snorkeling and hiking enthusiasts consider St. John paradise. Most of the island is a national park, and compared to its sister islands, St. Croix and St. Thomas, St. John is known for being the most family-friendly option. If you're up for a lively experience, consider its main village called Cruz Bay. However, if that's not your idea of an enjoyable vacation, the laid-back town of Coral Bay is your best bet.

From its nature attractions like the Pinckney Island National Wildlife Refuge and the Discovery Museum to its golf destinations, there's so much to love about Hilton Head. Its culinary scene is equally impressive and is truly a dream for seafood lovers (try Hudson's Seafood House on the Docks).

Situated on the northwest coast of Washington, the San Juan Islands is the place to visit if you're partial to outdoor adventures (think hiking, whale watching and kayaking), or simply want to relax on the beach. And there's no shortage of boutiques in Lopez Village, Eastsound, and Friday Harbor. But beware, as July and August tend to be the most popular months to visit.
9
Kiawah Island, South Carolina
Kiawah Island is known for its world-class golf courses, including the Ocean Course and Osprey Point. And if you're a beach bum, you'd be delighted to know that its stunning beaches stretch for 10 miles. And don't leave the island without stopping by Freshfields Village for a day of shopping and dining.
10
Block Island, Rhode Island
Looking for a slow-paced vacation? Pay a visit to Block Island, which has a relaxed vibe and a fair share of lighthouses, white-sand beaches, and cliffs. The small island, located approximately 12 miles off the southern coast of Rhode Island, is the perfect spot for boating and bird-watching (there are thousands of species).