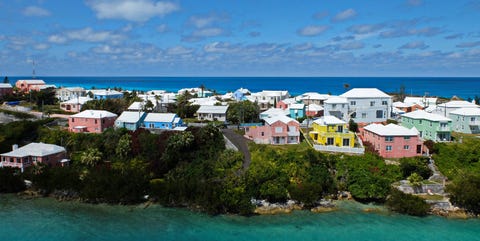 Roland Gosebruch / EyeEm
Getty Images
Balmy, breezy, and 70 degrees all year long? Yes, please. Far-flung adventure zones, international hot spots (literally), a few outposts you can probably drive to, here are 23 warm weather vacation ideas from across the world, perfect for combatting serious SAD.
Do you like: waterfalls, scuba diving, mountains and untouched rainforests? If that's a hard yes, this central American enclave is for you. The Lodge at Pico Bonito abuts the , putting some of the world's most dazzling natural environments at your doorstep.
In the past few years, the ancient city has enjoyed a vibrant resurgence thanks to a closeknit artist community and a world class food scene. Stay at the Four Seasons in the center of the city, enjoy the rooftop pool and the open courtyard, and save time in your trip to float the Xochimilco Gardens in the colorful trajineras.
If you live on the East Coast, you'd be hard-pressed to find a shorter flight that will give you a more escapist feel. A few years back, the old school Pink Beach Club was revamped as the decadent and impeccable , the island's first new hotel in more than a decade.
We're guessing this isn't the first time someone has suggested checking out Austin. But really: Go check out Austin! Stroll along the Colorado River, grab breakfast tacos at , and stay in a . While the temperature isn't tropical, rare winter lows hover around fifty degrees in early January and only go up from there.
Lather on the sunscreen as you explore the ancient Mayan Ruins, and cool off with a visit to the , where you can snorkel through Belize's incredible turquoise water. Renowned for its partying scene, you'll have plenty of occasions to indulge in tropical drinks while you're in town.
Winter is undeniably the best time to visit , as the festive city burns even brighter over the holidays. Thousands of lights illuminate the River Walk, and you can catch a festival or an old-fashioned rodeo show later on in this season. *Goes to San Antonio once.* Yee-haw, am I right?
Depending on how much you hate the snow, you might want to visit these picturesque deserts ASAP. Explore the great canyon of the Al Hajar Mountains and rip through the dunes of the Wahiba Sands. Head into Muscat to see the traditional architecture of the Royal Opera House Muscat and Grand Mosque, and be sure to take home some of the city's famous fragrances.
If you're more into surfing than snowboarding, Nicaragua is where you need to spend the season. Wander through Granada, one of the oldest cities with well-preserved colonial-era shops and houses, and search for your zen in the country's natural parks, full of volcanoes and rainforests.
9
Los Angeles, California
For some of us, the quickest way to cure the winter blues is to go where both the palm trees and the stars are. To relight your inner fire, jump between tanning at Venice Beach and taking in LA's burgeoning art scene.
December ushers in dry season, so you can enjoy the warm weather without getting caught in a torrential downpour. There's also a number of from January through March, perfect for experiencing the culture.
December marks the off-season on Italy's South Eastern coast. Though you won't see temperatures as high as in June or July, you can expect days as warm as 55 degrees Fahrenheit and won't have to deal with quite as many tourists.
Get ready for sun-filled days and temperatures on the mid-70s. Lounge on idyllic beaches, take advantage of the city's numerous water sports and explore the famous and colorful Art Deco District. In February, Miami will also host the .
This time of year is one of Kauai's busiest, but with sunny days in the high 70s, it's worth pricier hotel rates. Don't worry about dealing with pesky crowds: The rural island only has two highways and visitors are encouraged to travel on foot through the gorgeous, rural terrain.
14
Playa del Carmen, Mexico
Fancy a swim? Playa del Carmen is a breathtaking destination, both above and below the coastal ocean waters. If you get tired of the dazzling beaches, ancient Mayan ruins and jungle trails are just a stone's throw away.
During the winter months when tourism here is at a low, the island of Santorini becomes a peaceful paradise of red, black and white beaches, wineries and picturesque villages. Take a donkey ride or a sail to tour its beautiful sights and catch one of the island's famously stunning sunsets.
Summer is just kicking off in Australia, which means sun, sand and surf await. Melbourne offers both oceanfront living and a vibrant city scene.
This Portuguese chain of subtropical islands is a popular tourist destination all year because of its alluring natural landscapes (meaning plenty of outdoor activities), wineries, food and culture. Madeira is also famous for its New Year celebrations, and even won the for the largest fireworks show in 2007.
A notoriously romantic destination, a trip to the Maldives all but guarantees the most relaxing time of your life. If you prefer a more active getaway, speedboat tours, snorkeling and parasailing are popular choices.
Temperatures in Phuket can reach the upper 80s well into December, so you can lay out on the pristine beaches or the deck of your floating villa all season long.
20
Cape Town, South Africa
Our winter is summer in South Africa, meaning it's the perfect place to thaw out, especially during February and March when it's than earlier in the season. Hike Table Mountain, take it easy at the beach and shop around .
Here, the sun is always shining and the weather is mild on the worst day. Plus, it's a short drive to Los Angeles if you want to get in a night on the town or hit the shops on .
22
Punta del Este, Uruguay
The chic city in Eastern Uruguay is filled with luxury resorts and famous clubs, but the locale still has a far-flung and rural atmosphere.
23
Rio de Janeiro, Brazil
December through January, Brazil's summer, is the best time to visit Rio de Janeiro, especially if you're looking to party. Between New Year's celebrations with music and fireworks at Copacabana Beach, and one of the world's biggest festivals, , at the end of February, there's no better place to dance the cold away.