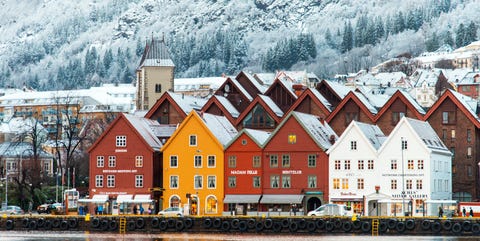 Tatiana Kolesnikova
Getty Images
If snow flurries warm your heart while everyone around you is settling down for a long winter's nap: We relate. Pull on your coziest intarsia sweater, throw a log on the fire, and get ready to plan the ultimate winter weather getaway.
1
Steamboat Springs, Colorado
Steamboat is home to Champagne Powder®, and no that trademark is not a typo. Experienced ski bums know the west coast typically has heavy, wet powder. (Sorry, but it's true!) Not so in Steamboat, where the powder is light, fluffy, and genuinely effervescent. Don't expect to rub elbows with Hollywood celebrities, though. Instead, it's Olympians you'll likely spot in the working—read: no fake chalets—ski village. If your quads are cooked on day three of skiing, spend a morning fly-fishing the Yampa River.

Stock up on Norwegian sweaters at the , fly up the Fløibanen funicular bullet railway for the best views of the city, then ski down one of the seven famous mountains. Or stay at sea level—or fjord level—and Instagram the adorable fishing town to your heart's content.

It's a pretty trippy experience to land in sunny San Francisco, grab an In 'n Out burger, soak in the sun—and then drive headlong into a blizzard. But that's what's so magical about this spot, which is just under four hours from SFO. There's something decidedly low-key about Tahoe—likely, the giant alpine namesake lake sends out soothing, unsnooty vibes.
This postcard perfect resort town nestled between Mt. Rundle and Mt. Cascade in Banff National Park is home to Lake Louise, an alpine lake famed for hue of the water. Depending on the light, it can lean turquoise, lapis, or sapphire. Go for the skiing, the hot springs, and the cleanest, crispest mountain air.
The primary attraction in this northern Finland hamlet is the Kakslauttanen Arctic Resort, where you can stay in one of dozens of glass igloos with unprecedented views of the Northern Lights. Log cabins are available for those who want a more traditional cozy take; snow igloos for those who want to get even more Olaf.
A trip to Quebec City is straight out of a holiday card: wintry strolls along cobblestone streets, views of the iconic Château Frontenac Hotel and Citadelle of Québec, and the natural wonder of the Montmorency Falls. Extreme winter devotees can enjoy a cocktail by the fire or even spend the night in the — a hotel made entirely out of snow and glass.
You could spend an entire winter vacation eating and shopping your way through Munich's various Christmas markets. Warm yourself up between jaunts in one of the city's classic beer halls.
If you like fresh powder and maple syrup, is a great place to while away a few winter days. Spend the sunlight shredding on its nearly 500 acres of skiable mountains, then cap off the night by eating and drinking in the .
9
Alta Badia, Italian Alps
Vacationing in the six villages of Alta Badia is best for those who want to build up an appetite skiing, then gorge themselves on South Tyrolean specialities and wines in cozy restaurants and mountain huts.
is a next-level playland for outdoor adventurists. You can go nordic skiing, ice climbing, snowshoeing, and dogsledding — or sit back with something warm (and strong) in one of the area's top-knotch breweries and distilleries.
is a wintry mix of good things: with cobblestone lanes and traditional wooden inns, an annual snow festival, renowned skiing, and — best of all — the famous Jigokudani Monkey Park, where Japanese macaques chill out in the steaming hot springs.
12
Prague, Czech Republic
Hit Prague's historic cafés and take in holiday events, like the Praque Christmas market in the Old Town Square and the Three Kings procession. Or, later in the season, go for a spin on the ice skating rinks before saying farewell to winter at the Bohemian Carnevale parties.
If you're more of a music buff than a skier, you can hit museum and learn about the song's storied history, visit , or go a little more contemporary and tour a home featured in The Sound of Music.
Winter sport enthusiasts and snow lovers alike will find plenty to do in Bavaria, Germany. The area's many snowy peaks offer visitors the chance to ski, sled, snowtube, and ice climb. If you do need a break from the cold, just head to the spa region for a little relaxation and pampering.
A Victorian castle resort built in 1869, the Mohonk Mountain House in New Paltz is a picturesque winter retreat that can please a group. Adventurers can go snow shoeing, cross countrying skiing and ice skating before warming up in front of the resort's 39-foot-tall stone fireplace. Indoor types can watch the snow from the spa or the farm-to-table restaurants.
is one of the most quintessential wintery towns in America, so it's no surprise that it plays host to a number of cold weather-friendly activities. Visitors can enjoy the snow and brisk air with sleigh rides, snowmobiles and outdoor ice skating.
Though is not technically its own town, the community that calls itself the gateway to Yellowstone has made a name for itself as a winter haven. Big Sky is home to the most skiable terrain in America, so winter sport enthusiasts abound.
Located in the French Alps, is a vision when it's covered in powdery fresh snow. Hit up the charming town to enjoy unbeatable views of the snow-covered mountains, while staying in your own ski chalet.
Fairbanks, Alaska is not only home to a portion of the world famous dog sled race and the , you can also catch sight of the stunning Northern Lights in the town that saw its first snowfall in September this year.
A few miles outside of Kiruna sits the , an art exhibition and hotel made from fresh ice and snow from a river just north of the Arctic Circle. The 80-room hotel is only open during the winter months, and must be rebuilt each year after melting in the spring.
Jackson Hole, Wyoming transforms into a truly impressive winter wonderland each winter, when the town is covered in snow and visitors descend upon the area to take advantage of the skiing, snowmobiling, and stunning views.
Park City, Utah's two resorts—Deer Valley and Park City Mountain —offer visitors a combined 7,300 acres of snowy terrain to explore by ski or snowboard. The town is also home to the Sundance Film Festival, bobsled rides, and the world's only ski-in distillery.
Head to Patagonia, Argentina to experience the Andes Mountains in their snow-covered glory, or check out the to experience breath-taking icy glaciers.
After serving as the backdrop for several integral parts of the Game of Thrones series, Reykjavik, Iceland is on many travelers's bucket list. Beyond its Hollywood connection, the town offers visitors the chance to hike glaciers and escape the cold with a visit to natural hot springs.
25
Whistler Village, British Columbia
The snowy mountains and charming small town vibes make in Canada's a must visit for any winter fans, especially for those looking to get in some quality outdoor adventures in the form of snowshoeing, skiing, tubing, or ice climbing.