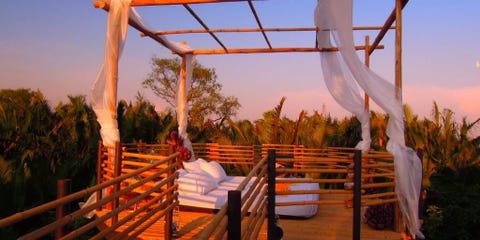 Falling asleep in an exotic location with the stars directly above you and the wind tickling your skin either sounds like a dream, or the kind of Survivor-style adventure reserved for the most outdoorsy types among us.
You don't have to rough it in a sleeping bag and tent to get a taste of the outdoors at your favorite warm weather destination. With — yes, the kind with comfy beds and luxurious amenities — there's never been a better time to spend a night in an open-air room, a trend that's been picking up steam as of late.
The five suites below — which, according to , are some of the best in the world — are the perfect place to start.
Be warned though, you may find yourself with an incurable case of wanderlust.
Located in South Africa's private Sabi Sand Reserve, the is home to three luxury tree houses, which give visitors the chance to spend a night amongst the animals and stars. Don't worry too much though, the rooms are situated a safe distance above the ground, so you won't be visited by any wild guests.
The Cabriolet at Italy's is equipped with a retractable roof that sits directly above the bed. Visitors need only press a button to turn the room into an open-air space. Here's hoping the weather cooperates.
This eco-conscious Thailand hotel is home to "," an outdoor getaway that gives guest the chance to sleep out in the open, 23 feet above the ground. The space sleeps two, and even comes with access to WiFi, but with a view like that you probably won't spend much time online.
At Kenya's , guests can book one of two "star beds," which sit on raised platforms with stunning views of the surrounding lands. The beds are situated on wheels so guests can choose whether they want to sleep directly under the sky, or under the platform's partial roof.
The in St. Lucia sits a thousand feet above the Caribbean sea, and each of the 32 suites is equipped with only three walls, for the ultimate in indoor-outdoor living, and a private pool that juts directly out into the open air.