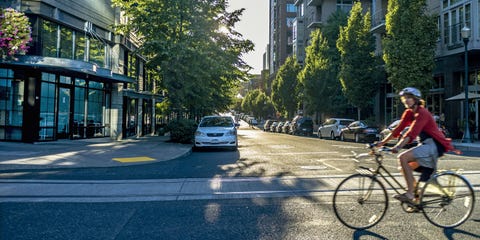 Portland goes by many nicknames—Rose City, Stumptown, Bridgetown—but the latter may be the most apt, considering that the city's 12th bridge, Tilikum Crossing, opened last September. Named after the indigenous Chinook tribe's word for "people," the cable-stayed steel structure is the longest car-free bridge in the United States. After dusk, it's also a canvas for artists Douglas Hollis and the late Anna Valentina Murch: Their installation of 178 LEDs, which change color according to the temperature and current of the Willamette River, casts dreamlike hues on the bridge's 40 cables.
The warehouses of the Central Eastside neighborhood are rapidly becoming an unofficial food-factory corridor. You can sample salt culled from Oregon's Netarts Bay—and flavored with black truffles or Stumptown coffee—at Jacobsen Salt Co. (); watch Peruvian cacao beans turn into chocolate bars at Ranger Chocolate (); taste the fruits of the cheese-making process at Ancient Heritage Dairy (); and stop by the Wonka-esque Quin Candy, which churns out Pinot Gris lollipops and other eclectic sweets ().
Recreational marijuana is newly legal in Oregon. If you're 21 or older, you can purchase up to a quarter-ounce per person per day at a medical dispensary for private use (see for details). These dispensaries look less like head shops and more like clean-lined boutiques: Farma is glossy and sleek enough to resemble an Apple store (); GreenSky Collective is lined with reclaimed wood (). Another option: Take an 11-mile bike tour of the city's marijuana industry, with shopping stops ().
525 S.W. Morrison St., : Housed in the upper floors of Portland's glazed terra-cotta–tiled 1909 Meier & Frank building, with a Tiffany-blue palette in all 331 guest rooms.
1022 S.W. Stark St., : The second Ace in the growing empire sets a new standard for hotel cool. Its 78 rooms have such only-in-Portland touches as bespoke gray Pendleton wool blankets, turntables, and hoodie bathrobes.
611 S.W. Kingston Ave., : Japanese architect Kengo Kuma is working on an expansion of this traditional garden set to open in 2017, but visit now for a quiet haven of bursting rhododendrons.
: Skip the lines at the much-ballyhooed Voodoo Doughnut and stop by one of the four locations of this beloved bakery, with flavors like mascarpone-topped tiramisu and hibiscus-glazed pistachio cheesecake.
427 N.W. Broadway, : Octagonal, Oregon-made cast-iron skillets, Japanese chambray aprons, and Gränsfors carpenter axes from Sweden are among the stylized utilitarian wares at this storefront in the Old Town neighborhood.
1323 S.E. 7th Ave., : Sacred hearts made of dark chocolate covered in edible gold are best sellers at this cult-classic chocolatier, but don't pass up the candied hazelnut and sea salt–topped chocolate bars.
203 S.W. 9th Ave., : A trove of ethically sourced, well-designed objets (such as porcelain-and-deerskin wind chimes) and accessories (like canvas backpacks made in Portland).
Check out the May 2016 issue of Siweb for even more Portland travel suggestions.