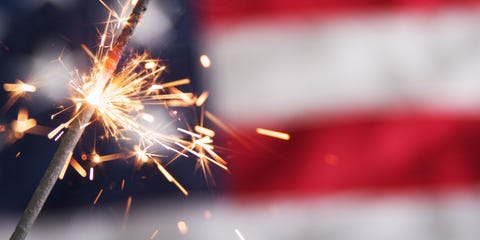 Just because you're traveling abroad doesn't mean the Fourth of July has to be drab. Read on to see how cities around the world celebrate the red, white and blue.
Norway is home to the (ACCN), which is intended to "further American-Norwegian relations," so it's no surprise that the country has its own festivities to celebrate America's Independence Day. This Fourth of July marks the 31st annual American Independence Day festivities in Oslo, which will include prizes like airline tickets to the United States, BBQ food (naturally) and events to showcase car collections.
Celebrate the Fourth of July in true patriotic style in London (yes, we understand the irony of that). Visit , where he lived for 16 years between 1757 and 1775. There will be a lunchtime party featuring glasses of champagne and cake to mark the holiday, according to . Alternatively, if you prefer beer to bubbly, stop by the city's on July 3. There you'll find a mechanical bull, folk music and an all-American BBQ.
The town of New Ross, located in southeast Ireland, hosts a yearly Irish America day to celebrate the Fourth of July. This year's event will begin with "a reading of the Declaration of Independence" and will include a Boston Tea Party re-enactment, BBQs at several local establishments, and a giant fireworks display, according to the website . Uhm, can we have Irish America day in America, too?
The city of Rebild in Denmark has been celebrating the Fourth of July since 1912, and since then, thousands of people have attended Independence Day festivities in the city. The celebration is meant to be "a token of gratitude toward the country that greeted more than 300,000 Danish immigrants with open arms," and apparently, "the tradition still stands to strengthen the bonds of friendship between the USA and Denmark," according to official tourism website . Celebrations include music and speeches by prominent Americans and Danes; previous speakers have included members of the Danish royal family, Walt Disney and Richard M. Nixon.
If you're going to be spending the Fourth of July in Shanghai, China — a city filled with American expats — you may want to pack your cowboy boots. The mega-metropolis has been known to celebrate Fourth of July with Texan-themed festivities such as line dancing, barbecue and beer, according to travel website . One bar near the city center is promoting an , complete with hot dogs and beer and American-brewed Goose Island IPA.
Similar to Shanghai, Paris enjoys celebrating its American expats. If you don't attend the hosted by Expats Paris (the event announcement encourages attendees to "throw on your best American flag-inspired outfit" for some "stellar drinks and free finger food"), try visiting . The watering hole invented two American favorites, the sidecar and the bloody Mary, and is the locale where composer George Gershwin wrote "An American in Paris," according to .
On the famous Darling Harbour in Sydney, the throw what the group claims to be the largest Fourth of July American Independence Day Party in the Southern Hemisphere. American DJs make an appearance at the event, July 2, and activities also include cornhole, free American whiskey tastings and beer pong. The dress code? "As American as apple pie." (Your ticket is actually double the price if you don't sport red, white and blue.)