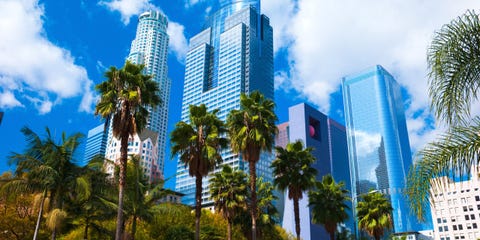 Raise your hand if you see palm trees, beach umbrellas and high-end shopping when you hear "Los Angeles."
Trust us, we get it. The City of Angels has certainly made a name for its sunny beaches and Hollywood starlet culture, yet it is increasingly catching the attention of designers and tourists alike for its wide range of architectural landmarks, art galleries and restaurants immaculately designed for longevity in style. It's not just about the beach and glittery sites like Rodeo Drive anymore.
Read on for the real must-see sites and destinations in the city, and put on your design hat for a well-curated trip. (OK, fine, you can bring a sun hat, too.)
What To Sight-See: Hollyhock House
If you're a design-lover, it's officially the right time to visit Los Angeles. One major reason: After a four-year restoration, the that Frank Lloyd Wright designed for American oil heiress Aline Barnsdall between 1919 and 1921 has re-opened for the public.
"If you like architecture or history, make a reservation to tour the ," says Jason Cochran, the Los Angeles-based editor-in-chief of . "It's on a hill in the middle of Hollywood where you can see for miles around." Design with a view — nice.
Where To Shop: Wertz Brothers
It may not be , but if you're looking for designer furniture treasure, stop by , on Santa Monica Boulevard in West Los Angeles. "You have to know your stuff, but there are some real jewels and gems there once in a while," says Los Angeles-based interior designer . "It's a little gold mine of finds and catches."
Another great spot for design lovers: , a modern home accessories shop on Beverly Boulevard in Fairfax.

If you're looking to visit fashion boutiques, drive along Melrose Avenue between Fairfax and Santa Monica, Cochran suggests. Or, simply explore. "Little boutiques are now starting to pop up in all sorts of interesting places in Los Angeles for easier access, and not necessarily collecting in one spot like they used to," says Cochran. Thanks, traffic.
Where To Drink: Musso & Frank
Los Angeles may conjure images of swanky rooftop pool bars and palm tree-laden clubs, but it's worth it to skip the scene for a truly authentic taste of Old Hollywood.
Cue , a on Hollywood Boulevard that opened in 1919 and has hosted patrons such as Charlie Chaplain and Marilyn Monroe. "They have some of the best, most pure cocktails in the city," says Cochran. "Many of the bartenders have worked there twenty to thirty years. One bartender, Ruben, has been there since 1967 and is famous for his unbelievably smooth vodka martini."
For even more old-fashioned flair, visit (which George Clooney supposedly named one of his production companies after), a classic restaurant with a dusty, dark theme and beautiful, old-fashioned cocktails. Find it in Burbank, across the street from the .
Only visit if you're comfortable digging into delicious comfort food (but really, who isn't?). is known for its indulgent dishes such as pot roast and banana cream pie. "People in Los Angeles are really into comfort cooking and things like cake and pie right now," says Cochran. "You won't see as many creme brûlées or other things that require a ton of delicacy."
For an offshoot of a former Rat Pack hangout, check out on Hillhurst Avenue for dishes like mustard green lasagnette with alligator and wild boar bolgonese. Alternatively, Reid suggests in West Hollywood for a space with incredible style. "It has beautiful design that will wear well thought the years, and it's been around for a while," she says. "Restaurants in Los Angeles tend to be really hot for a bit and then not hot, but Cecconi's is consistently good and chic."
Where To See Art: The Broad
The newest buzzy art scene in Los Angeles is , and you'll definitely need reservations. Feel like a local Angeleno as you peruse modern art. "It's quite popular among locals, but a lot of people who don't live in Los Angeles don't know about yet," says Cochran. "It has a great permanent collection of very contemporary art, but also a lot of interesting exhibits."
Reid also suggests and . And naturally, it goes without saying, it's worth it to make a visit to the staple .

Where To Walk: Top Of The Hill
The best place to walk in Los Angeles is upwards, and there are plenty of opportunities to do so. "I love to take people to the top of the hill, which could mean going up Mulholland Drive and looking down from , or taking in the view from ," says Cochran. "There are also a lot of hidden stairways in between all the hidden mansions in and . If you sneak up the hill using these stairways, you can look at gorgeous old houses with a great mix of architecture, since many of them were built between the 1920s and 1960s."