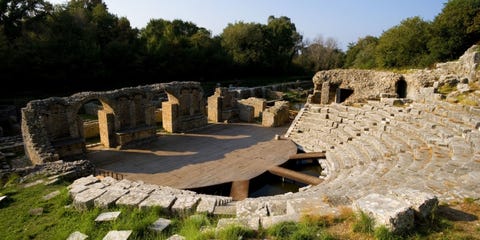 No travel bucket list would be complete without a or two. They're rife with photo ops, yes, but the beautiful landscapes aren't the only draw. To make the cut, a location must hold some cultural, historical or scientific significance as determined by the United Nations. In turn, the sites' timeless appeal is protected.
And while you may be familiar with Heritage Sites like the Grand Canyon, here are a few lesser-known locales — from a list of 1,052 — that you'll want to plan a visit to stat.
1
Danxia Landform: Zhangye, China
Danxia landscapes are steep cliffs of red rock and they can be found in six areas around the country. is known as the nation's most beautiful, though, with its uniquely shaped, multicolored rock face.
2
Wadi El-Hitan: Western Desert of Egypt
Wadi El-Hitan, or Whale Valley, is located in the Western Desert of Egypt and was designated a World Heritage Site because it features impressive numbers of fossils of an called Archaeoceti. These fossils are considered evidence that whales evolved from a land species to the ocean mammal we know today.
3
Ellora Caves: Maharashtra, India
features more than 100 rock-cut caves, 34 of which you can visit today, that date back to 600 to 1000 A.D. and served as Buddhist, Hindu and Jainist temples and monasteries.
4
Cocos Island: Costa Rica
As the only island in the eastern Pacific with a dense tropical rainforest, the climate and ecology of Cocos Island is particularly unique. Plus, with plenty of sharks, rays, tuna and dolphins swimming around, is a diver's paradise.
5
Studenica Monastery: Kraljevo, Serbia
This features two white marble monuments called the "Church of the Virgin" and the "Church of the King," and holds 13th- and 14th-century Byzantine-style fresco paintings.
6
Svetitskhoveli Cathedral: Mtskheta, Georgia
Svetitskhoveli Cathedral is the second largest church in the nation and one of its most honored. It features impressive 11th-century architecture and is also believed to be where Christ's .
7
Butrint: Vlorë, Albania
Butrint is an impressive archeological site located on the southwest coast of Albania, where an ancient city dating back to 800 B.C. once stood. The city was eventually abandoned during the Middle Ages after it flooded, but in 1994, so you can visit the ruins of the Greek, Roman, Byzantine and Venetian civilizations that lived there over hundreds of years.
8
St Kilda: Outer Hebrides, Scotland
Scotland's first UNESCO World Heritage Site is located off-shore from the Outer Hebrides (a chain of islands off the nation's west coast) and features unbelievable , making it a favorite spot for UK divers. The site is a natural wonder, with some of Europe's most dramatic cliffs and large numbers of like puffins.
9
Maya Devi Temple: Lumbini, Nepal
Lumbini was designated a world heritage site in 1997 because it is where Buddha was born in 623 B.C. Due to its religious significance, it's an important pilgrimage site for Buddhists, and features many monuments, monasteries and temples like the .
10
Portuguese City Of Mazagan: El Jadida, Morocco
Mazagan was built and settled by the Portuguese in the 16th century and then taken over by the Moroccans in the 18th century. The of the two dissimilar cultures are evident in the design of the structures you'll see in the city today.
11
Tabbataha Reef Marine Park: Philippines
Tabbataha Reef spans and features an incomparable 328-foot tall wall of coral. It also contains vast varieties of marine animals, including fish, dolphins, sea turtles and more. The reef is part of the Coral Triangle (an area that encompasses the waters surrounding Indonesia, Malaysia, Papua New Guinea, the Philippines, the Solomon Islands and Timor-Leste), which is currently threatened by , meaning its diverse marine population is at risk.
12
Preach Vihear Temple: Preach Vihear, Cambodia
This 9th-century Hindu temple features awe-inspiring ancient architecture atop a cliff in the Dângrêk Mountains. The site just in 2015, after a seven-year dispute between Cambodia and Thailand over who owned the land came to an end.
13
Gebel Barkal and the Sites of the Napatan Region: Meroe, Sudan
The Gebel Barkal is a 324-foot flat-topped mountain that has been sacred since it was deemed holy by Egyptians in 1500 B.C., and its still holy to Muslims who continue to visit it today. Here you'll also find sacred tombs, pyramids, temples and palaces that date as far back as , and span over a 37-mile stretch on the bank of the Nile.
14
Białowieża Forest: Belarus and Poland
Białowieża Forest contains nearly 548 miles of centuries-old wilderness that's been completely undisturbed by humans. The forest also holds a mystical landscape of meadows and river valleys, and is home to large populations of .
Shibam was built in the 16th century and is surrounded by a massive protective wall. It's known as "the " because of its tall high-rise mud brick buildings and grid layout.