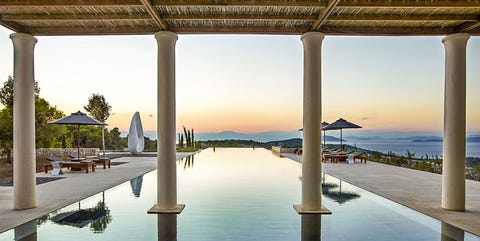 When was first founded, it earned a bit of a "couch surfing" reputation — you could stay in someone's extra room for less than a hotel. Now, however, the company is venturing into a market that puts private islands, villas and palazzos at travelers' disposal — and not just celebs).
Airbnb is currently negotiating a $200 million deal to acquire , according to . Luxury Retreats has more than 3,300 professionally-inspected villas you can rent, including some that belong to some pretty notable names.
Read on for 10 of the most luxurious properties you may soon be able to rent on Airbnb if the deal goes through.
1
Necker Island in The Caribbean
This private island in the Caribbean was designed by Richard Branson to serve as his family's holiday home. Branson may even spend time on the island during your stay. At $80,000 per night, the island retreat has 17 bedrooms, 17 bathrooms and several pools — including one with swim-up bar.
2
Palazzo Margherita in Bernalda, Italy
The Francis Ford Coppola family recently renovated this property with designer Jacques Grange, blending opulent traditional interiors with contemporary style. Six of the palazzo's 9 bedrooms have access to either a Juliet balcony, private balcony or furnished terrace where you can live out your Italian palace dreams. The rental goes for $6,992 to $10,840 per night, and sleeps 25 people.
3
Villa La Magnifique in the Cannes Area, France
Spend your dream vacation in Cannes at this luxurious estate with views of the sea and its own disco, bar and heated swimming pool. The Villa La Magnifique was built in 1871 and features lovely architectural touches, including beautiful columns and elegant fireplaces. With rental rates of $3,328 to $15,491, the villa is just a 5-minute walk from Mouré Rouge beach.
4
Amanzoe Villa in Porto Heli, Greece
Feel like an ancient Greek god or goddess in this sprawling 9-bedroom villa, which rents for $17,791 to $29,609 per night. Perched on a dramatic hillside that provides views of the sea, the rental takes inspiration from classic Greek architecture and includes a private spa with a cold plunge pool, steam room and sauna — trained staff members for assistance.
5
Villa Le Scale in Capri, Italy
Overlooking the Gulf of Naples, this recently restored villa features classic Mediterranean blues and whites and two acres of tiered, lush gardens. Dating from the early 19th century, the home originally belonged to nobility, and rents for $4,130 to $7,433 per night.
6
Musha Cay in The Bahamas
This serene island belongs to magician David Copperfield and rents for $39,000 to $57,000 per night. There are five separate homes to choose from on the island, including a 10,000-square-foot mansion perched on a hill overlooking the sea. The interiors are designed with a blend of English colonial and tropical styles.
7
Ani Villas in Phang Nga, Thailand
This beachfront estate with 10 bedrooms and 10.5 bathrooms is found on the peaceful island of Koh Yao Noi. Splash around in the 100-foot oceanfront swimming pool (which comes with a waterslide) or rest in the therapist-staffed spa and fitness center. You can also visit the cooking class facility or stop by one of many dining venues. Rental costs range from $6,000 to $15,000 per night.
8
Nandana in West End, Bahamas
This fully-staffed villa provides you with an estate manager, chauffeur, concierge, night butler and a chef — two ATVs, two jet-skis, waterskis and kayaks. Spa and masseuse services are also available for when R&R is needed after your outdoor activities. The villa rents for $10,000 to $16,000 per night.
9
Villa Sheherezada in Dubrovnik, Croatia
Overlook the sea in this architectural beauty from 1920 that's been fully renovated to reflect its original aesthetic. Enjoy the swimming pool, whirlpool and your own private beach to the glittering Adriatic Sea. The villa sleeps 12 and is available for $4,878 to $7,046 per night.
10
Beech Knoll in Hollywood
This Southern California abode has sweeping panoramic views from the Hollywood sign to the Pacific Ocean, and rents for $1,800 to $2,250 per night. The home has bright, modern interiors and plenty of smart home features, including touch-screen panels for entertainment, window shades that automatically lower in strong sunlight and a house-wide sound system.