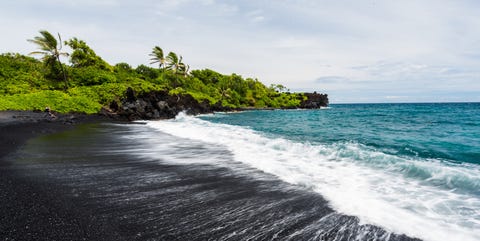 Contrary to popular belief, black sand beaches were not formed so that those among us who are naturally drawn to the darker, more gothic side of life. (Or those of us who prefer the black heart emoji above all.) Instead, black sand beaches when fragments of lava and other volcanic minerals were broken down over centuries by the ocean. For this reason, you'll find many black sand beaches in areas like Hawaii and Iceland, but there are also some unexpected contenders—take Greece and Italy, for instance. Read on for where you can find one of nature's most marvelous creations, whether you're looking for a tropical or glacial getaway.
1
Playa Roque Bermejo, Spain
This spectacular outpost resides on the westernmost tip of the Spanish archipelago that is the Canary islands. Rent a car, charge your camera, and get ready for a low-key day of outsized beauty.
This black sand beach is still relatively new. In 1990, , covering the former Kaimu beach with 80 feet of lava. Now, 20 years later, the ocean has turned chunks of lava into grains of black sand.
The island of Jeju is becoming a popular destination for travelers, and it's easy to see why. In addition to lave tubes, a and a water massage resort, Jeju boasts incredible beaches. Many of these beaches are , a result of volcanic activity that created the island millions of years ago.
4
Black Sands Beach, California
The only black sand beach in the continental United States is a well-worth-it five-hour drive from Sacramento. It's rugged, sharp, and not ideal for swimming or sunbathing; dogged surfers admire the wild tides and waves from afar since the waters are too dangerous to enter. But the unparalleled beauty leaves every visitor supremely satisfied.
5
Anse Couleuvre, Martinique
The is known for beaches with dark black sands, such as Anse Couleuvre, shown here. Juxtaposed dramatically with the blues of the Caribbean and the greens of the surrounding hills, this stretch of sand makes for a one-of-a-kind getaway (not to mention great color scheme inspo).
This autonomous community of Spain is known for both black sand beaches and white sand beaches — and, of course, all year round. The rugged coastline of the islands, which are home to active volcanoes, is as dramatic as the black grains of sand. One particularly famous black sand beach is .
In Santorini you'll find a dotted with grass umbrellas and lounging chairs. Nearby, a mountain called — which boasts the ruins of an ancient city called Thira, believed to have originally been a Spartan colony — is a popular tourist attraction.
8
Tangkoko Nature Reserve, Indonesia
Found at the foot of the Dua Saudara Mountain, has a wide expanse of plant life, animal life (including primates!) and, of course, soot-black beaches.
9
Dominica, The Caribbean
No wonder "Pirates of the Caribbean" used as one of its filming locations: This small island (known as "The Nature Island") has black sand beaches that perfectly combine the mystique and the beauty of the Caribbean.
10
Punalu'u Beach, Hawaii
The Big Island is home to a variety of colorful sandy beaches from white sands to green sands, but one of its most famous is the found on the southeastern Kau coast. Swimming conditions aren't ideal here, but you may be able to spot sea turtles lounging on the sand.
11
Karekare Beach, New Zealand
Just a 50-minute drive from downtown Auckland, offers wonderful opportunities for surfing, walking and picnicking. You'll find the Karekare waterfall just a short walk away.
Italy may be an unexpected country for a black sand beach, but an Italian island known as Stromboli is on Earth. It has erupted almost perpetually for 2,000 years, creating the black sand beaches visitors (and, we have to guess, the few hundred locals) love.
13
Miho No Matsubara, Japan
Not only will you be able to marvel at the beauty of black sand at Miho No Matsubara, but the World Heritage site is also an ideal place to place .
Soak up the waves and the luxury of small crowds at the various low-key , which were formed from cooled lava from the nearby Mt. Agung.
15
Muriwai Beach, New Zealand
You may not find beach umbrellas at , but its rugged, dark terrain that stretches for 40 miles attracts those looking to horseback ride, kiteboard or hang glide.
16
Tahiti, French Polynesia
The are surrounded by lush vegetation. A favorite for many locals is , which has a charming lighthouse and attracts athletes with its black sand soccer field.
Perhaps one of the most famous beaches in Iceland, features expanses of black pebbles, basalt columns that resemble pyramids and a large bird population, including fulmars, puffins and guillemots. The waves can be extra rough and unpredictable, so be careful if you go near the water.
If you're an avid hiker, make a trek along the Kohala Coast a must-do on your bucket list. The , and there are various opportunities for splashing around in a freshwater lava pool or the ocean along the way.
In you'll find expanses of black beach that is as mysterious as it is calming. Just imagine seeing the Northern Lights from here — breathtaking.
20
Wai'anapanapa State Park, Hawaii
Found on Maui, was formed when waves collided with lava, shattering it into small fragments. Explore the nearby freshwater caves, ancient temples and burial grounds, and lava formations.
21
Playa Negra, Costa Rica
A popular hotspot for surfers, (literally, "black beach,") offers a calm, quiet landscape with tide pools and protected swimming areas for families.
22
Diamond Beach, Iceland
One of Iceland's most popular and breathtaking attractions, boasts pieces of glaciers that wash ashore, resembling diamonds against the jet black beach.