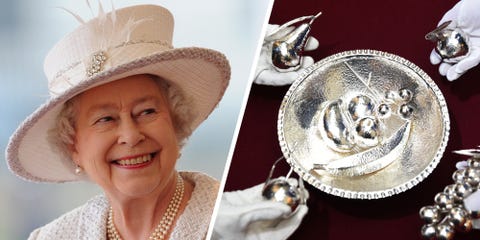 In her 65-year reign, it's safe to say that Queen Elizabeth II has had the chance to meet some of the world's most powerful leaders — from South African President Nelson Mandela to U.S. President Dwight D. Eisenhower.
At this year's Summer Opening of Buckingham Palace (beginning July 22 through October 1), guests will have the opportunity to view the many gifts the Queen has received from foreign dignitaries over the years.

On display in the State Rooms, the will feature a selection of from some 100 countries and territories given as gifts "during State Visits, overseas tours and official engagements, and those presented to mark significant moments in The Queen's life," according to the royal collection's site. In addition, the exhibition will also explore The Queen's role as Head of State, Head of the Commonwealth and Head of Nation.
Here, just a few of the impressive items visitors will be treated to on their next visit to the palace.
Presented to The Queen from China in 2015, the is a model of the treasure ship sailed by the navigator and diplomat Zeng He of the Ming Dynasty.
This is one of a pair presented to The Queen by the Yoruba people of Nigeria in 1956. As beadwork and royalty are closely associated in Yoruba culture, large quantities are considered a sign of wealth and status, according to the royal collection's site.
This was gifted to The Queen in 1991 by then president of Zambia, Kenneth Kaunda. It contains silver models of the many fruits grown in the country.
Carved by the Kwakiutl people of Canada, this was presented to The Queen during a visit in 1971. At the top, it features the mythical thunderbird, believed to bring thunder by flapping its wings.
A woven from coconut leaves was presented to The Queen by Queen Salote Tupou of Tonga during her Commonwealth visit in1953.